Tyler Anne Snell first sold to Harlequin in 2014. Her standalone debut was Manhunt and since then, she has written the first book in a new four-book Intrigue series releasing in 2016. What she loves most about writing for Harlequin is the wonderful community of authors and readers it carries. Buy her debut here!
Follow Tyler on Twitter, Facebook and her blog!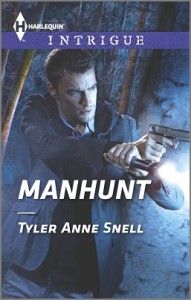 1. What book first got you hooked on Harlequin?
The first book I ever read in one sitting, cover to cover, was a Harlequin Intrigue! However, it was when I was in middle school and I've lost that particular book since then. I've tried to remember its title but have had no luck! One of these days I'll track it down! Just know, it was certainly exciting!
2. How did you celebrate selling your first manuscript?
My fiancé (or husband, depending when you read this!) brought me home some flowers and an awesome little cake after I told him the news! But, aside from calling some friends and family and updating my social media, I didn't go crazy! Instead I ended up immediately re-reading my book, ready to make the changes that needed to be made!
3. Which of the many books you've written has stayed with you the most and why?
Manhunt will always have a special place in my heart. It was the first book I ever published or sold, though I've been writing several under the radar for quite a while. However, this first book in my new four-book series that I'm currently working on (still untitled at the moment) excites me to a whole other level! Following a female private investigator and a man from her past that's a bodyguard, there's a lot of fun tension and thrills throughout it! Although, Manhunt definitely is thrilling!
4. What's top of your TBR pile?
Hot Six by Janet Evanovich! I absolutely love the series and come back to it every now and then and realize all over again that it's utterly addictive!
5. What book do you wish you'd written and why?
Real Murders by Charlaine Harris! I'm a huge fan of Harris and have read her every book. Real Murders starts a series that follows one of my favorite protagonists, Aurora Teagarden, through an exciting and emotionally charged story arc. I would have loved to write in the point of view of Aurora Teagarden! She's brilliant, relatable and feisty!
6. What's harder – first or last lines?
Definitely first lines for me. Like first chapters, first lines set the tone for the entire book. A first line has to really have a good punch to hook in readers. It's why I spend so much time going over what it will be and, more often than not, why I end up changing my original choice. The last lines are easier in the fact that it's like a reward for readers and the characters for making it through the story. Somehow that makes it easier to write for me!
7. How do you choose your characters' names?
Oh goodness, I don't have a good answer for this! Sometimes I'll pick one from a list of names I'm always compiling—from books, shows and people I meet—and sometimes it will just pop into my head! Once I have a name, I rarely change it again. There are a few nods, though, throughout my books that are for close friends and family. I try not to be too obvious with naming characters after them!
8. How do you push through writer's block?
I have a music playlist that can help knock loose a scene or idea on occasion. If that doesn't work I'll either write on another book for a bit or even read. The worst writer's blocks usually get resolved after I step away from the Word documents and rewatch some of my favorite television shows! One or two episodes later and I'm good to go!
9. What's the best career advice you've ever had?
My father has always told me to be confident in whatever pursuits I've had. And, more importantly, to be passionate about them. Self-confidence and passion go a long way no matter what your dream or career revolves around!
10. Your preferred writing snack?
A Hershey's chocolate bar with almonds and lots of coffee or sweet tea!
11. Who is your favourite fictional couple?
Wow. This is a hard question! There are a lot of fictional couples I enjoy! At this very moment Margaret Hale and John Thornton from Elizabeth Gaskell's North and South comes to mind! I suggest you watch the BBC, four-episode adaptation. Trust me, it's amazing! Great chemistry and tension between those two!
12. If you could rewrite your life, what would you change?
I don't know if this counts but I would have made myself two inches taller. Nothing more, nothing less.
13. What would your readers be surprised to know about you?
I love, love, LOVE Jackie Chan and Kurt Russell. I don't know when the love for either started but it certainly hasn't stopped. My mother-in-law even put a picture of Kurt in the center of a collage for me as a Christmas present!
14. What is your most overused word?
It's fine. That's not one word but it's something I say way too much! It's fine.
15. If I wasn't a romance author, I would have liked to be…
A private investigator OR detective. I like solving puzzles and getting into the mind of someone else.
16. When was the last time you said 'I love you'?
Not more than five minutes ago when my same-named beau brought me coffee!
17. What does love feel like?
I think the phrase "friendship on fire" has always come closest to describing the feeling for me. A maddening mix of comfort, trust and passion!
18. What's your guiltiest pleasure?
Playing video games. Thanks to my father, I love to play them daily and even have a tattoo on my arm that represents one I've grown up with.
19. What's your most romantic song?
"Such Great Heights" by The Postal Service always makes me swoon when I hear it!
20. Every hero needs a…
woman to keep him on his toes!