Scarlet Wilson first sold to Harlequin in 2011. Her medical debut was It Started with a Pregnancy and since then, she has written fifteen books. What she loves most about writing for Harlequin is the diversity of writing for two different lines, Harlequin Romance and Harlequin Medical Romance. Make sure you check out her most recent Harlequin Romance, A Bride for the Runaway Groom!
Follow Scarlet on Twitter, and her blog!
1. What book first got you hooked on Harlequin?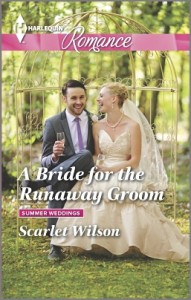 Pleasure, Pregnancy and a Proposition by Heidi Rice.
2. How did you celebrate selling your first manuscript?
By telling my family. My other half knew I was trying to write but my mum, dad and sisters didn't. It was a big surprise to them.
3. Which of the many books you've written has stayed with you the most and why?
I like them all and would give a different answer every day. Today's favourite is The Prince She Never Forgot. I always said I wouldn't write a snowbound book or a made-up kingdom book. I've now done both. The Prince She Never Forgot is set in a made-up kingdom.
4. What's top of your TBR pile?
The Girl with All the Gifts by M R Carey
5. What book do you wish you'd written and why?
The Returned by Jason Mott, I loved the whole human nature aspect of how people reacted so differently when their loved ones returned from the dead.
6. What's harder – first or last lines?
I don't mind either, but I think I enjoy writing last lines more.
7. How do you choose your characters' names?
It's odd. I always thought I would choose names I liked. But it doesn't work that way at all. When I was writing my second book things just weren't working. I changed my heroine's name from Rose to Abby and that was it—it just flowed! The name has to be right for the character.
8. How do you push through writer's block?
I don't really have writer's block. See below!
9. What's the best career advice you've ever had?
Write every day and I do. I write 1000 words every day no matter what else is happening. I have to be disciplined about writing because I work full time and have two kids with activities every weekend and most nights of the week. I can write 1000 words in half an hour and have written in the car, at the side of the football park, in my bed—anywhere!
10. Your preferred writing snack?
Chocolate—always chocolate.
11. Who is your favourite fictional couple?
This was one was hard. At the moment it would probably be Eleanor and Park from Rainbow Rowell's book.
12. If you could rewrite your life, what would you change?
Nothing. Life isn't for rewrites.
13. What would your readers be surprised to know about you?
I'm a complete Star Trek fanatic, I even wrote an episode myself where I was Captain Picard's daughter. I'm a little disappointed to never have made it into the TV series.
14. What is your most overused word?
Had!!
15. If I wasn't a romance author, I would have liked to be…
In real life I'm a nurse and health visitor and I like those jobs, but in my imagination I think I should have been a female Indiana Jones or an astronaut.
16. When was the last time you said 'I love you'?
I say it to my boys every day.
17. What does love feel like?
Butterflies in your stomach and a little breeze blowing over your skin!
18. What's your guiltiest pleasure?
This year it was going to RWA in New York. I couldn't wait. I've wanted to go for a few years but things just fell into place this year.
19. What's your most romantic song?
It's not romantic but I love "Last Christmas" and make my other half dance to it every year.
20. Every hero needs a…
Heroine!