RaeAnne Thayne first sold to Harlequin in 1998. Her Silhouette Intimate Moments debut was The Wrangler and The Runaway Mom and since then, she has written 48 books.
Don't miss RaeAnne's next book, Redemption Bay, out July 2015!
Follow RaeAnne on Twitter and Facebook!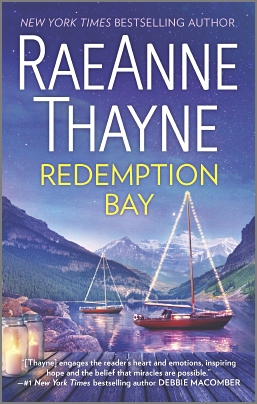 1. What book first got you hooked on Harlequin?
I started reading Harlequin Romances extensively when I was about 12 years old. I can't pinpoint one specific book but my favorite authors back then were Betty Neels and Margaret Way. When I was in high school, my best friend's older sister bought all the Harlequin Presents books and would kindly let me borrow them when she was done (lucky me!).
2. How did you celebrate selling your first manuscript?
We went out to a seafood dinner. I remember sitting in the restaurant with my husband and our five-year-old daughter and feeling like the luckiest person in the place. How many people in that restaurant actually knew what it was for a dream to come true?
3. Which of the many books you've written has stayed with you the most and why?
This is so hard to answer! I truly love each one of my books and the characters seem like old and dear friends. I loved Saving Grace, which was my first RITA finalist and I also have a special place in my heart for Blackberry Summer, which was my first single title book after nearly forty category romances for Intimate Moments, Special Edition and Bantam Loveswept.
4. What's top of your TBR pile?
All the Light We Cannot See by Anthony Doerr
5. What's harder – first or last lines?
Last lines are definitely harder for me. How to you wrap up 90,000 words in the perfect way that will make readers want to come back for more? I struggle a great deal with them, usually in a panic because of an all-consuming deadline, and I usually end up with something I'm not a hundred percent thrilled with – though when I re-read the book during the edit stage, the endings always seem to work, somehow.
6. How do you choose your characters' names?
The main characters' names often just come to me. A name I like or something I've heard. For secondary characters, I sometimes turn to the phone book. 🙂 Recently I've found an app called NameShake that is amazing. I can punch in nationality, gender, etc. and it will keep spilling out names until I find one I like.
7. How do you push through writer's block?
The only way possible – by forcing my butt in the chair and my hands on the keyboard. I write, even if it is horrible dreck that I end up tossing out later. Usually in that dreck, I can find a nugget or two or three that I end up keeping. I follow the Nora Roberts school – I can fix crap but I can't fix a blank page.
8. What's the best career advice you've ever had?
I've had so many great mentors along the way, I'm not sure I can narrow it down to one thing. My dear friend Nicole Jordan pushed me to try my hand at writing single titles about six years ago and I'm deeply grateful to her for that. My agent suggested I set a series in a bead store, something I never would have imagined without that suggestion and now I'm an avid beader (of the obsessed variety, actually!). Years ago, my best friend in high school was always telling me I should write a romance novel some day because I loved them so much.
9. Your preferred writing snack?
Pistachios. A few go a long way and they give energy along the way.
10.Who is your favourite fictional couple?
Darcy and Elizabeth Bennet.
11. If you could rewrite your life, what would you change?
I would have travelled more when I was young, before I had kids that made it tough to get away as much as I would like. My husband and I are both avid travellers but our kids have this pesky thing called school.
12. What would your readers be surprised to know about you?
I was once caught in a flash flood in Morocco (see above note about my love of travel … though that experience did make me reconsider!).
13. What is your most overused word?
Probably "but". I always seem to find the "but".
14. If I wasn't a romance author, I would have liked to be…
A teacher.
15. When was the last time you said 'I love you'?
About ten minutes ago to our daughter on Skype.
16. What's your guiltiest pleasure?
Before I became a writer, I might have said reading but I consider that absolutely necessary to the creative process now. If I had to choose something, I would probably have to say beading. I could spend hours at it when I know I should be writing. And don't get me started on how much time and money I spend buying more beads than I can ever use.
17. What's your most romantic song?
An old one, Dan Fogelberg's Longer.
18. Every hero needs a… quest.
What a lovely Interview with… RaeAnne Thayne! One thing's for sure… we're so glad RaeAnne got such fab career advice, we love her books! Have you got a RaeAnne Thayne favorite? Tweet @RaeAnneThayne or comment below and let us know!
Happy writing!