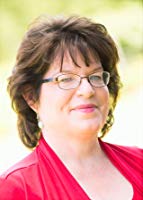 We're pleased to have Laurel Blount with us today. She's here to tell us about her writing process and her July 2019 release!
Can you describe your writing process?
I really love people! So my initial story spark is almost always an interesting character. Once I have a strong sense of his or her personality, I brainstorm starter situations. What could this character be facing that would truly shake up his/her world? From there I map out a loose plot framework of turning points leading up to the dark moment. As soon as I feel comfortable with that structure, I start writing my first draft. I take a few minutes each morning to jot notes on the scene I'm planning to write before jumping in, and I can never resist doing some editing as I go along. My stories tend to bloom as I write them, and I go through numerous drafts as I true up the details.
Hometown Hope, your July 2019 Love Inspired title, is available in stores today. Can you tell us a bit about this book and what inspired you to write it?
Sure! As usual, Hometown Hope began with a character—widowed single dad Hoyt Bradley. Broad-shouldered, kind-hearted, great with his hands, but not so great with words, Hoyt's motto when it comes to helping his grieving daughter is "Whatever it takes." With that in mind, I pointed this blue-collar hero towards his personal kryptonite—a small bookstore owned by scholarly former classmate Anna Delaney. Anna and Hoyt share a prickly history, but the two opposites have one thing in common—a determination to help Hoyt's book-loving daughter Jess recover her speech. So they team up—and stumble into a very unexpected romance. In my own life, I've found that God's answers to my prayers often lie way outside of my personal comfort zones—involving the unlikeliest person or the most out-of-the-blue situation I could have imagined. Part of the inspiration for Hometown Hope was exploring that dynamic.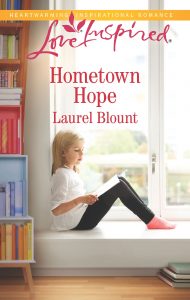 One fascinating aspect of this story is the hero's young daughter's selective mutism. In simpler terms, she has not spoken in three years. What prompted you to write a story with a child who faces this hardship, and how do you think the presence of that issue impacts the story?
Two children in my family have struggled with speech-related issues, and I've seen firsthand how challenging those can be. Also I've enjoyed reading author Torey Hayden's accounts of her work as a special education teacher, and selective mutism was a specialty of hers. I found this complex issue very interesting—as well as Hayden's creative approaches to helping her students overcome it. In Hometown Hope Jess's speech challenges add depth to the story—and provide strong motivation for two very different people to cooperate with each other in their efforts to help her.
In your own words, can you describe what defines Love Inspired?
Love Inspired romances spotlight sincere faith, loving families and strong friendships. Characters definitely do struggle, but we can be confident that these struggles will be portrayed in an encouraging way. I find these hopeful stories uplifting and refreshing reads that I turn to frequently–especially when I am feeling a little stressed! They work even better than chocolate—and that's saying something!
What have you read and enjoyed recently?
Oh, my! You might be sorry you asked—I love to read. Let's see—last week I finished Nancy Thayer's A Nantucket Wedding, which was a fun beach read. A bookclub I attend recently read Eleanor Oliphant is Completely Fine by debut author Gail Honeyman—loved it! And yesterday I binge-read A Grief Observed by C.S. Lewis—an amazing and poignant book. I'm currently enjoying Mindy Obenhaus's Love Inspired title Her Colorado Cowboy, and next up from my TBR pile will be Beverly Lewis's novel The Tinderbox and a new Nora Roberts.
What advice do you have for writers?
Embrace your own voice, don't give in to self-doubt, and never ever quit writing!
***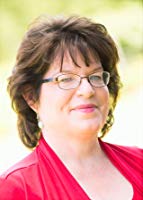 Laurel Blount lives on a small farm in Middle Georgia with her husband, David, their four children, a milk cow, dairy goats, assorted chickens, an enormous dog, three spoiled cats and one extremely bossy goose with boundary issues. She divides her time between farm chores, homeschooling and writing, and she's happiest with a cup of steaming tea at her elbow and a good book in her hand.
Her debut novel, A Family for the Farmer, was the recipient of the 2017 Maggie Award for Excellence in the Romance with Religious or Spiritual Elements category. This book also received two 2017 Holt Awards of Merit and was a finalist in the 2017 Carol Awards.