We're pleased to have Kimberly Van Meter with us today. She's here to tell us about the process of writing for both Harlequin Romantic Suspense and Harlequin Dare. She will also tell us a bit about her December 2018 release, which is the first book in her new Military Precision Heroes mini-series.
Soldier for Hire, your December 2018 Harlequin Romantic Suspense title, will be the first book in your new Military Precision Heroes series. Can you tell us a little bit about these books and what inspired you to write them?
I think military heroes are very sexy. There's something innately heroic about men who are willing to make the ultimate sacrifice for their country and it takes a certain kind of person who has the grit and strength of character to make that commitment. However, I wanted the freedom to play a little fast and loose with the rules so I made a paramilitary private company (Red Wolf) that basically hires highly trained military to fill their ranks to do the jobs that are too dangerous or need a high level of plausible deniability for the job. These heroes are sexy, a little damaged, hard as nails, a little jaded, but ultimately good men who have each other's backs and for they'll do anything to protect the woman they love. I hope to write many Red Wolf spin-off stories in the future!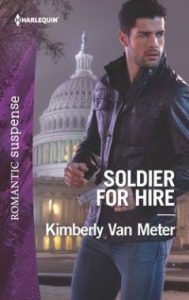 You have written for several Harlequin series lines. Can you tell us about that experience?
Yes, I started my Harlequin journey with Superromance in 2006 and I've written for Blaze, Romantic Suspense and Dare. First and foremost, no matter the line, I love writing for Harlequin. I've been blessed to work with the same editor throughout my career and that continuity has enabled my writing voice to grow and flourish. Johanna is the unsung hero behind all of my work and there isn't enough chocolate in the world to lay at her feet to express how much I adore her. What I can say is that no matter what I'm writing, my voice remains the same. I have a bit of a snarky tone to all of my writing so smart-ass heroines are definitely my thing. I love humor, the inappropriate the better, which is probably why I enjoy writing military heroes because often humor is a good coping mechanism for really messed up situations.
What can readers expect across all of your books and what elements will vary depending on the mini-series and the genre?
Currently, I'm writing romantic suspense as Kimberly Van Meter and hot contemporary as Alexx Andria. With my romantic suspense, readers can expect fast action, quick, witty banter and crazy, wild plots. My books tend to run a little on the hot side so be prepared for a little wild action behind closed doors. The new Dare line is Harlequin's sexiest new reader experience so it is WILD, no rules, bring a fan and a beverage because it will raise your internal temperature but it's still told with my signature voice, so lots of witty banter, sarcasm, inappropriate humor, some angst, engaging secondary characters and an unexpected twist here and there (I like to keep my readers guessing).
What is your writing process?
Buckle up, kids. Don't try this at home. My writing process is scary and leaves scars. My creative muse is a bi-polar b**** who lures me in with the promise of great productivity and then bails on me when I need her the most. I usually have to drag the crazy lunatic by the hair back to the writing den, hog-tie her to a chair and force her to spit out the words, which she does but it's under great duress. I've often joked with Johanna that part of the magic required of my particular process is deadline panic. I don't recommend it. The process is brutal and squeezing your brain repeatedly in this fashion results in a dead brain, eventually. Like, today, after spending a week of writing 8-10k days, I've forgotten how to word. Um, what was I saying? Oh, and if you haven't figured it out yet, I don't outline. Pantster 4 Life baby.
Does your writing process depend on your current project or is your plan always the same?
My plan is not to give my poor editor a coronary. In all seriousness, I don't have a plan. I just listen to the characters and follow where they lead.
In your own words, can you describe what defines Harlequin Romantic Suspense?
I think a Harlequin Romantic Suspense is driven by a strong story, a thrilling plot and characters you care about. I think some of the best writing can be found within the pages of a romantic suspense novel. I also think there's a lot of room to play with adventure within the pages of a romantic suspense and that can be interpreted in many different ways from serial killers to espionage so there's many different flavors to enjoy.
What books have you read and enjoyed recently?
Sadly, I haven't had time to read much lately — a problem I plan to rectify soon! I'm up for recommendations.
What advice do you have for writers?
My advice to writers is always this: 1). Be prepared to fail. Failing isn't bad. It's part of the learning curve. I've failed many times and I've learned something valuable from every fall. Pick yourself up, try again. What does fail stand for? First Attempt In Learning. (F.A.I.L.) 2). Read voraciously. Read outside of your genre. Read bestsellers, read crap. Fill your head with knowledge. The more you know, the better your writing will become. 3). Be objective about your work. Everything you create will not be beautiful, but revisions and edits are opportunities for refining what you have created. Don't be afraid of the editing process. 4). Publishing is a brutal business. Grow a thick skin or you will be cut to pieces. 5). Love what you do because there will be days of misery. 6). Decide whether you are in this as a hobby or a career because each path has different expectations. 7). There are no original ideas, but YOUR voice is what makes your story unique. Find your voice and nurture it if you want to stand out among the rest. 8). Pay attention to detail. Find authors in your genre, network. Attend workshops. Always try to improve your craft. 9). Don't give up when faced with rejection or disappointment. 10). Have faith in yourself and enjoy the process. It's a marathon, not a sprint.
***
Kimberly Van Meter started her writing career at the age of sixteen when she finished her first novel, typing late nights and early mornings, on her mother's old portable typewriter. She received The Call in March 2006 with Harlequin Superromance and hasn't looked back since. She currently writes for Harlequin Dare and Harlequin Romantic Suspense.
Kimberly, her husband and their three children make their home in the Central Valley of California.