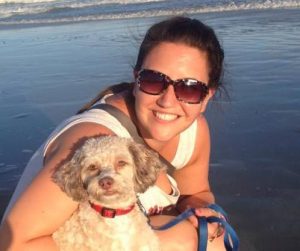 Let's give a big welcome to Kerri Carpenter, our newest visitor to the SYTYCW blog! We're delighted to have her and chat about her writing. Don't miss her new book from Harlequin Special Edition, Falling for the Right Brother, available now. Without further do, here's Kerri!
How did you get into writing?
Looking back now, I think I was creating stories, characters, and plotlines from a very early age. Maybe always. But there was a distinctive moment that changed everything. When I was maybe seven or eight, I had learned about poetry in school. I went to my Nunnie's house (my maternal grandmother) and wrote a poem about her. She took one look at it and announced that I was a writer. Then she told my entire family that I was a writer. That's all it took. Because Nunnie always believed in me, I never questioned it.
I didn't gravitate toward romance novels until I was a little older. Throughout my teens, I wrote a lot of plays and poetry but something always felt off. One summer in college, my mom gave me some Nora Roberts series to read. By the time I finished devouring the Calhoun sisters, the MacGregors and the Chesapeake Bay saga, I knew that I wanted to write romance.
What do you like most about writing contemporary series/category romance?
To paraphrase a line from Buffy the Vampire Slayer, history is very much about the then and I live very much in the now. I love writing stories that take place in the current day and feature characters who I would want to be friends with. Some people say that the stakes aren't as high for contemporary as they are in other genres. But I disagree. Life can be tough. It can be scary and unsure and overwhelming. So what could be better than picking up a book where you know the characters are going to figure it all out and have a happy ending together?
Also, writing for Special Edition has been a dream come true. I absolutely adore this line and I've been reading it for years! It's contemporary romance with relatable, likeable characters. Who doesn't want to read that!
How did you create the town of Bayside, Virginia in the Saved by the Blog series?
I was walking my dog, Harry, one afternoon when I got the following idea: Sabrina meets Gossip Girl. It was so strange because I like both the movie Sabrina and the TV show Gossip Girl, but I hadn't seen either in years. The next thing I know, the town of Bayside popped into my head fully formed. I could see everything so clearly – the town square, the coffee shop, the bay, the houses. It wasn't until a year or two later that I realized I was subconsciously thinking about Amagansett, New York, where I stayed for my brother's wedding. I think my mind took the town square there and melded it with a typical coastal bay town. Voila! I had Bayside, Virginia. Of course, the series name comes from my favorite television show of all time, Saved by the Bell, which is set in Bayside High.
Which was your favorite character in Falling for the Right Brother, and why?
Oh no!!! I can't answer this. They're all my favorite. But if I HAD to pick just one, I might go with the ubiquitous Bayside Blogger. He or she is simply fabulous. They know everything about everyone and have no qualms about sharing. Plus, they're well-versed in social media and communications, which is very important in this day and age and may or may not reflect what I do in my day job.
How much of yourself is reflected in the book and how?
My first instinct with this question is always an adamant no. I'M NOT IN MY BOOKS AT ALL. But usually, as I'm going through the revision process, I start to notice little things. Easter eggs, if you will. My characters are often eating my favorite foods or watching my favorite movies. There are constant references to my "real" life.
In this particular book, there's probably more of me than in most. My heroine, Elle, studied abroad in Florence, Italy, just like me. As I mentioned above, I have always loved Saved by the Bell. The entire Saved by the Blog series is my personal homage to my favorite show. On a tougher note, my family has been dealing with bladder cancer like Elle's dad has in the story. I don't think I even realized I was writing some of my own feelings down until the book was complete.
So I suppose I have to admit that there's actually a lot of me in my books.
How do you motivate yourself when you don't feel like writing?
I like to play little mind games with myself. I'm always up for a contest so I'll challenge myself to write for only 15 minutes. That's it. Seems easy. What usually happens is that I'll sit down for 15 minutes and next thing I know, a whole hour has passed and I have lots of new words. I'm tricky like that.
Do you have advice for other writers?
Join a writer's group, do your research, don't try to cut corners, be patient (everyone who knows me is laughing at that one) and write, write, write. More importantly…
Do. Not. Give. Up. EVER! Know that there will be lots of setbacks and heartache and rejections and loneliness and insecurity and all kinds of other crazy emotions. But if this is really your dream, go for it. Because when you get to see your name on the cover of a book, you'll realize that all of those tough times were worth it.