Jennifer Morey first sold to Harlequin in 2007. Her Silhouette Romantic Suspense debut was The Secret Soldier and since then, she has written fifteen books. What she loves most about writing for Harlequin is the happy endings , a great team of editors and marketing staff, and the international reach. Don't miss Jennifer's latest book – A Wanted Man – out now!
Be sure to follow Jennifer on Twitter and Facebook!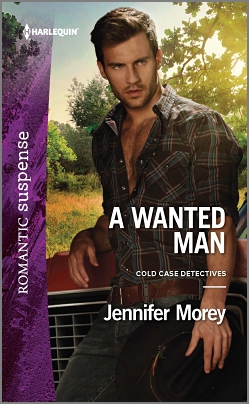 1. What book first got you hooked on Harlequin?
Kathleen Woodiwiss's Shana got me hooked on the romance market as a whole.
2. How did you celebrate selling your first manuscript?
My spacecraft engineer coworkers all took me out for happy hour, then I threw my own reception after my book was published. It was a big shindig, and an exciting, happy time!
3. Which of the many books you've written has stayed with you the most and why?
The Secret Soldier and Special Ops Affair. The Secret Soldier from the All McQueen's Men miniseries, because Cullen McQueen sets the bar for sexy, strong heroes, and Special Ops Affair, also from the same miniseries, because Cullen's intelligence officer, Odelia "Odie" Frank, epitomizes a strong heroine put to the test when faced with the prospect of love. Whenever I get stuck with a heroine's character, I always think of her.
4. What's top of your TBR pile?
Guilty by Karen Robards.
5. What book do you wish you'd written and why?
The Goldfinch by Donna Tartt, because of her brilliant, engaging prose and graphic characterization. For me, there is no better study of literary perfection.
6. What's harder – first or last lines?
First lines. Bringing the reader into the time, place and occurrence that triggers the story isn't always easy without falling prey to telling or information dumping. The less the reader knows the better, but the reader can't be confused over what the story is about, where the characters are in time and place, who they are, and how they have triggered the story. It's like the beginning of movies. If you miss the first 20 minutes or so, you've probably missed the best part—the most important part.
7. How do you choose your characters' names?
I have several baby name books. Naming my characters is one of my favorite aspects of the writing process. I sometimes am told my names are too unusual and have to change them.
8. How do you push through writer's block?
Write anyway. Even if it's bad and I know I'll be deleting most of it later. The point is, not all of it will need to be deleted and I always find the story again.
9. What's the best career advice you've ever had?
Show, don't tell. It's a lot more complicated than those three little words.
10. Your preferred writing snack?
Nachos with something carbonated.
11. Who is your favourite fictional couple?
Bruce Willis and Mary-Louise Parker in Red. I was hooked as soon as his character talked about a romance novel with her!
12. If you could rewrite your life, what would you change?
My first marriage, my first job, and when I went to college. I'd have skipped the first two and gone straight to college. Teaching my brain is what made me the writer I am today.
13. What would your readers be surprised to know about you?
I wasn't a Harlequin reader until I was published by them.
14. What is your most overused word?
Was. That word haunts me. Yes, it has its proper use, but it can sneak into sentences that could be much stronger without it. Kind of like the word "it."
15. If I wasn't a romance author, I would have liked to be…
A screen writer. Maybe an actress. Movies. Ah, movies.
16. When was the last time you said 'I love you'?
This morning to my Australian Shepherd.
17. What does love feel like?
Warm and tingly with a big smile and a need for whiskery kisses…or… Warm and tingly with no smile, just an all-encompassing need to get closer to the person stirring the passion.
18. What's your guiltiest pleasure?
Cuddled up on the couch all day watching movies and eating greasy, salty food. Maybe a glass of good red wine to finish off the day.
19. What's your most romantic song?
Vince Guaraldi's "Linus and Lucy" from A Charlie Brown Christmas.
20. Every hero needs a…
A moral reason to fight and a woman who challenges him emotionally.
A big thank you to the lovely Jennifer Morey for stepping into the Sold blog spotlight this week! We hope you enjoyed it!