Jennifer Faye first sold to Harlequin in October 2012. Her Harlequin Romance debut was July 2013 and since then, she has written nine Harlequin Romance books. What she loves most about writing for Harlequin is her editors, the amazing stories she gets to tell and the box of books the UPS man delivers to her door. She likens it to Christmas year round.
Don't miss Return of the Italian Tycoon, Jennifer's latest book – out now!
Follow Jennifer on Twitter and Facebook, and be sure to check out her website!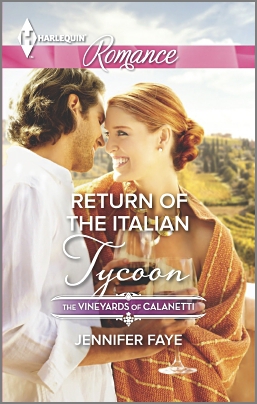 1. What book first got you hooked on Harlequin?
The first Harlequin I read was when I was a teenager. It was a sunny afternoon and there was a sidewalk sale in town. I remember finding the book amongst tons of others. The cover was purple, but for the life of me I can't remember the title or the author. But that was the beginning of my love affair with Harlequins. I've read hundreds over the years.
2. How did you celebrate selling your first manuscript?
The day I got the call my husband brought home my favorites: Chinese takeout, flowers, bubbly and handmade chocolates. Then that weekend he took me out on the town for a fondue dinner. It was a very special night indeed. 🙂
3. Which of the many books you've written has stayed with you the most and why?
Snowbound with the Soldier will always hold a special place in my heart. The book has a special kitty in it that was loosely based on my real life kitty, Sly. In fact, I crafted the whole book with her by my side. She was a stray that stole my heart. But sadly cancer stole her away from us far too soon. The book is dedicated to her.
4. What's top of your TBR pile?
Robyn Carr's Virgin River series. I'm partway through the series and I love revisiting the colourful characters.
5. What book do you wish you'd written and why?
Is it wrong that I've never had this thought? J The truth is that I've read numerous books that I've loved. The ones that stand out in my mind have vivid imagery, larger-than-life characters, vibrant emotions and a happily-ever-after.
6. What's harder – first or last lines?
First lines, hands down. I struggle with opening lines and opening scenes. What I write down initially is definitely not what I turn into my editor. But you can't edit an empty page so the initial draft serves its purpose.
7. How do you choose your characters' names?
It is just part of the creative process. Sure I will look for names on Google from a certain region, but the name needs to fit what I know about the character's personality.
8. How do you push through writer's block?
Thankfully, I haven't experienced writer's block. *knock on wood* And I hope that I never do. I keep an ideas folder for future books that I'm anxious to write. And I plot out each book with a detailed synopsis that works as my roadmap from beginning to end. However, my characters have been known to take a few detours along the way, but eventually they get back on track. 😉
9. What's the best career advice you've ever had?
I've been fortunate to have some awesome writer friends who have shared lots of helpful tips. The most recent bit of advice that has stuck with me is: writing your next book is your best marketing approach ~ Marie Force.
10. Your preferred writing snack?
Black tea. I don't really snack while I'm writing but I do have to have a tall mug of hot tea in the winter or a glass of iced tea in the summer.
11. Who is your favourite fictional couple?
Rhett Butler and Scarlett O'Hara. I fell in love with Gone with the Wind when I was a little kid and it was on television. I was certain that they would eventually wisen up and get back together. I was so excited when the sequel came out, but it just didn't jive with the story I'd conjured up in my imagination. But either way, they got their HEA.
12. If you could rewrite your life, what would you change?
Nothing. At least none of the important stuff. Because the good and the bad combined to give me the most wonderful family and my dream career—creating happily-ever-afters.
13. What would your readers be surprised to know about you?
I like my homemade spaghetti sauce and pasta served over cottage cheese. A poor man's lasagne. And yes, it grosses out my hubby every time I do it. LOL.
14. What is your most overused word?
'husband, I need…' Oh, wait. You mean in my books??? Hmm…I guess that would depend upon the book. But in general, it is something very boring—the word 'that'.
15. If I wasn't a romance author, I would have liked to be…
A crazy cat lady…no, I'm kidding. Well, sort of. I'm already one. 🙂 In my prior life, I was a statistician. I love working with numbers, so it would have been something in that arena.
16. When was the last time you said 'I love you'?
Every single day. I say it all the time to my hubby and kids. It can never be said enough. 🙂
17. What does love feel like?
It's a giddy feeling. It's a warm sensation. It's a sense of comfort—of belonging. Love is simply amazing—so it my husband.
18. What's your guiltiest pleasure?
Ice cream in the winter. My grandfather was a gardener—we're talking a half acre or more. So there was no time in the summer months for treats. It was work from sunrise to sunset. The goodies were saved for the downtime in the winter. So I remember snuggling under a blanket while enjoying my ice cream with my grandparents.
19. What's your most romantic song?
Frank Sinatra's 'The Way You Look Tonight'. Some songs are truly timeless.
20. Every hero needs…
A broad chest, strong arms and a handsomely crooked smile. A strong person with a tender heart lurking just beneath the surface.
Thanks so much for having me. I've really enjoyed visiting. And if anyone has any questions for me, you can ask here or via the contact form on my website: www.JenniferFaye.com