Diane Gaston first sold to Harlequin in 2003. Her Mills and Boon Historical debut was The Mysterious Miss M and since then, she has written eighteen books (counting novellas and short stories). What she loves most about writing for Harlequin is reaching so many readers from around the world who love historical romance.
Follow @DianeGaston on Twitter, Facebook and be sure to visit her blog! Diane's upcoming book, Bound by Duty, kicks off her brand new mini-series, The Scandalous Summerfields and is out next month!
1. W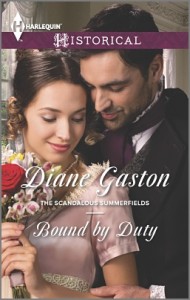 hat book first got you hooked on Harlequin?
I can't remember! I came late to Harlequin, though, and started reading them only after I started writing in 1995. Then I read and enjoyed various lines and wondered why I had not indulged in these wonderful stories sooner. I tried my hand at writing for the contemporary lines first, but it wasn't until I wrote a Regency Historical, my favourite type of book, that I found my way into print.
2. How did you celebrate selling your first manuscript?
My husband and I had travelled to Charlottesville, Virginia, where I was picking up an 1815 edition of La Belle Assemblée, a ladies magazine of the Regency era that I had purchased. We'd planned the trip to coincide with our wedding anniversary, but it was also the day I was to speak with the Mills and Boon editor who'd offered to purchase The Mysterious Miss M. Mills and Boon is the UK Branch of Harlequin, and I didn't realize that my cell phone did not work for international calls. My husband and I left our Bed and Breakfast at 5:00 am and drove to a convenience store where I purchased an international phone card. I phoned Mills and Boon (the UK branch of Harlequin) from a phone booth near a highway with trucks whizzing by and officially became a Harlequin author!
3. Which of the many books you've written has stayed with you the most and why?
My last book, A Lady of Notoriety, touched something in me. When I created the character of Daphne, Lady Faville, to be the villain in A Marriage of Notoriety, I found myself strangely sympathetic to her. I wanted to redeem her. I do believe anyone can change, even someone as self-centered and superficial as Daphne. I loved showing her struggle to learn to live—and love—authentically.
4. What's top of your TBR pile?
Lately my TBR pile is virtual. I'm a complete convert to ebooks. The top book on my virtual TBR pile is Amanda McCabe's recent Harlequin Historical, Betrayed by His Kiss, set in Florence, Italy, in the politically turbulent times of the late 1400s.
5. What book do you wish you'd written and why?
I don't wish I'd written someone else's book. I just can't think that way! Storytelling is so personal that I can't imagine writing any book but my own.
6. What's harder – first or last lines?
Definitely first lines. The first lines of a book need to accomplish so much. They need to grab the reader's interest. They need to convey what sort of book this will be, its tone, setting and time period and who the book will be about. When I start a book, I don't ever know exactly what will happen. I don't know everything about my characters either, so those first lines are rewritten several times. Last lines are much easier. By that time I know the characters and have taken the journey with them. Last lines almost write themselves.
7. How do you choose your characters names?
First my characters names must be proper for the time period – no Tiffanys or Kimberleys for instance. I check websites for authentic Regency names. I also try to make certain I'm not inadvertently naming characters after real people, past or present, so I always do an internet search on the name. I try never to use real titles, but often combine elements of real titles to make them sound authentic. The fact that my Regency characters often have title names as well given and family names offers other complications, and I try to limit the confusion as much as possible. Heroes with titles would be called by their title name so I also try to make the title name an appealing one. For example, the hero in The Vanishing Viscountess is Adam Vickery, Marquess of Tannerton, but his friends call him Tanner, a much better name for a hero.
8. How do you push through writer's block?
When I experience writer's block it is almost always because of a problem in the story. I turn to my writing friends, including Darlene Gardner, who has written for many Harlequin lines, and Lisa Dyson who writes for Superromance. They always help me get unstuck.
9. What's the best career advice you've ever had?
The best advice came from my friend, author Mary Blayney, who once gave me a needlework pillow that quoted Winston Churchill: Never Never Never Give Up.
10. Your preferred writing snack?
Diet Coke
11. Who is your favourite fictional couple?
Anne Elliot and Frederick Wentworth from Jane Austen's Persuasion. I love that book and the 1995 movie with Amanda Root and Ciarán My favourite Austen book and my favourite Austen movie!
12. If you could rewrite your life, what would you change?
I've had a marvellous life full of many blessings, wonderful people, and great experiences, but the only thing I wish I had done differently was to stay at home with my children when they were little. Even though I might not have found my way to writing, if I had been a stay-at-home mom, and I would have missed half of a wonderful career as a mental health social worker, I still wish I'd stayed home with them. They are grown now and seemingly undamaged, but I feel I missed something important.
13. What would your readers be surprised to know about you?
Probably that I am shy, because I wouldn't act shy if you met me, but I am. One of my worst nightmares would be to attend a party where I don't know anyone. Even the idea of it is painful!
14. What is your most overused word?
Well, I once used "furrowed," as in "he furrowed his brows," about 19 times in one book. Luckily my editor suggested I might wish to change some of them.
15. If I wasn't a romance author, I would have liked to be…
A torch singer in a ritzy piano bar (if only I could sing…)
16. What does love feel like?
Love is feeling joy at the happiness of the other person; and feeling pain at their pain. It is wanting nothing but the best for another person, to always champion them, to always be there when they need comfort.
17. What's your guiltiest pleasure?
Ice cream
18. What's your most romantic song?
An old one – Our Love Is Here To Stay by George and Ira Gershwin. It so wonderfully conveys how joyful love can be.
19. Every hero needs a…
Oh, that is so easy. Every hero needs a heroine to love him!
Hope you all enjoyed these insights into the wonderful world of Diane Gaston! We're all guilty of overusing a word or two… (don't furrow your eyebrows we know you are too!) So we want to know, what is your most overused word? Share yours by commenting below or RT this post and let us know!