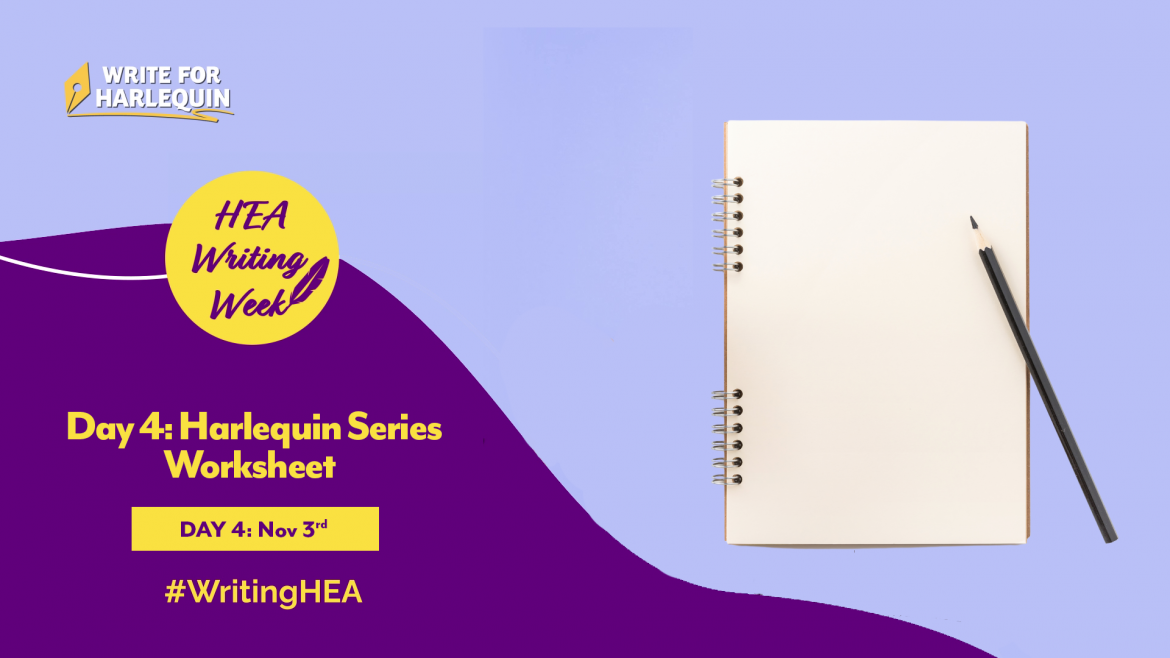 HARLEQUIN EXERCISE – MATCH THE SERIES
Welcome to Day 4 of HEA Writing Week. For today's exercise, take a paper and pen and match the back cover copy (the book's summary found on the back of the book) to the series you think it belongs to! Once you think you have them all, click the answer link to see if you were right.
This is a great activity to do AFTER the Get to Know Harlequin webinar on Nov. 2nd. Take what you've learned and test your knowledge below:
SERIES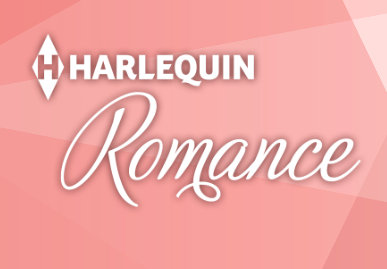 BACK COVER COPY
1. Grace Brown doesn't have time to fantasize about her boss Nico Doukas… never mind how attractive he is. Their business trip to paradise is all business—until one unguarded moment turns into seven days and seven nights of earth-shattering passion!
---
2. Career-driven PR whiz Montgomery Morgan is all about her professional public image. So why did she have a steamy hookup with celebrity chef Sean Cress? In an elevator, no less! Their secret is safe until Morgan learns she's expecting. Now, damage control requires an engagement. Sean's requirements are more "hot nights with Montgomery" and less "till death do us part." But nothing can stop their undeniable passion—not even the start of something deeper…
---
3. Locking eyes over a patient isn't how ER doctor Lily expected to be reunited with her estranged husband, Otto. Two years ago, she lost their baby and fled to Sydney, unable to share her grief. And as far as Lily's concerned, their marriage is all but over. Yet trauma surgeon Otto is ready to fight for their relationship. Now he has three months to convince Lily they can make a fresh start.
---
4. Wrongfully convicted of murder, Emma McBride wants nothing more than to clear her name. When Trace Redkin offers his help, she knows she can trust him—but can she trust herself to resist her attraction to the rancher? The desire simmering between them isn't the only peril they face as the murderer she's hunting marks her for prey…
---
5. As the servant girl who discovered she was the long-lost daughter of a comte, Lilas Moreau is no stranger to scandal. Now, more famous for her art, she won't have her independence threatened by the return of her betrothed, Bastien, Duc de Languedoc. As a new attraction sizzles between them, Lilas is relieved he wants to end their secret marriage contract. But a summons from the queen means they're forced to continue their charade!
---
6. Running from betrayal, Leah Zook finds purpose caring for the older owner of an Amish horse farm. But when he's injured and his estranged son returns home looking for redemption, Leah's resolve is tested. The mysterious Zach Graber has all the power to fix the run-down farm—and Leah's locked-down heart. But together will they be strong enough to withstand his secret… and hers?
---
7. Newly promoted expat Robin Johnson is ready to take London by storm! Her career blossoming, Robin soon tumbles headlong into the local dating scene… with disastrous results. When she confides her misadventures to her coworker's understanding brother Craig, the last thing she expects is to find that elusive spark—with him! After so many false starts, can Rob find it in her heart to give Craig the chance that he deserves?
---
8. Marlee Copland is the bridesmaid who hates weddings after being left at the altar. Billionaire Matteo Keller is the best man who avoids love after a devastating loss. Brought together in the Bahamas for the wedding, they find themselves letting go and giving in to their unexpected, thrilling chemistry. But when the "I dos" have been said and their different worlds beckon, will the magic of the island make going their separate ways impossible?
---
9. After barely escaping a deadly explosion, Officer Alma Majors has one clue to identify the victim and solve the case: a sliver of bone. But it's going to take more than shrapnel to expose the culprit. Bomb expert Cree Gregson will risk everything to protect his neighbor from a killer determined to avoid exposure. Protecting his heart may prove more difficult…
---
10. Dirk Hager's Texas property is under siege by city folk who know nothing about ranch life. That includes his new neighbor, Macy Reinalda, who is just looking for peace and quiet in her new home. When a storm leaves them snowbound, they try to find common ground. Can an old-school cowboy and an outsider looking for serenity learn to share the land—and love again?
---
11. Taken hostage by bank robbers on Christmas, security expert Laura Devin suspects one of the thieves is not who he appears to be. When the danger heightens after Laura sees the leader's face, undercover FBI agent Hollis Pryce is forced to blow his cover to free her. He'll risk everything to assist her escape from the Montana mountains and the criminal mastermind hunting them…