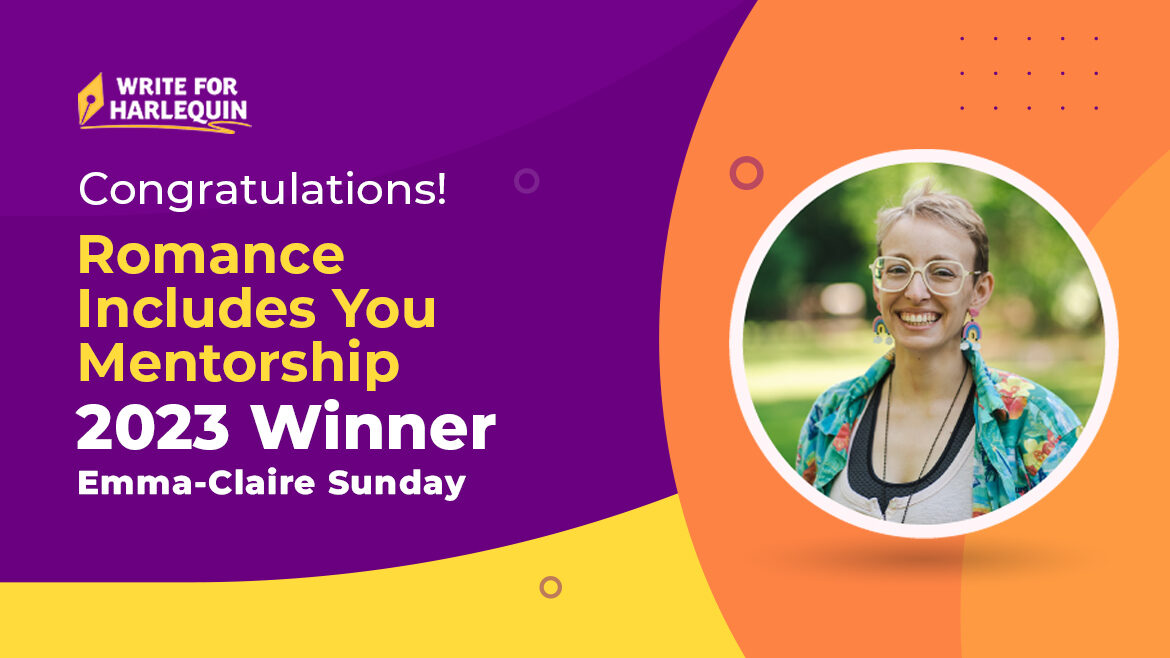 In January, we received over 160 submissions to Harlequin's Romance Includes You Mentorship from authors looking to publish their romance debut and eager to see more diversity represented in romance novels. After months of deliberation, we are thrilled to announce that Romancing the Duke's Sister by Emma-Claire Sunday has been selected as this year's top submission! Sunday wowed the Harlequin judges with a highly entertaining Regency romance story about two high-society women of the Ton. Sunday's story is set to be published by Harlequin Historical in autumn 2024.
Our readers were entranced by Sunday's clever and engaging storytelling and her use of the "rake" trope in a f/f romance. The historical detail and evocative Regency setting sent Sunday's submission to the top of many of our readers scorecards.
"We applaud Emma-Claire Sunday for her exceptional submission and are excited to be publishing this delightful romance," said Dianne Moggy, Harlequin's VP of Editorial. "The quality of submissions we received was excellent and we were deeply impressed by the powerful personal statements authors wrote about why diverse representation in the romance genre matters so much. We thank all authors who participated for sharing their stories with us."
As Sunday wrote in her personal statement accompanying her submission, "I want to spend my life filling the world's libraries with queer happily-ever-afters so that every young person can grow up knowing that joy, love, and passionate romance can shape a queer identity … I applied for the Romance Includes You Mentorship because I want my books to tell [queer readers] that yes, romance includes you."
Sunday was one of 13 shortlisted candidates. In alphabetical order, they are:
Aaliyah Andrews-Jackson, Monte Carlo Affair with a Secret Billionaire
Reagan Farmer, Everything Begins in Paris
Athena Hernandez, 'Twas the Night Before Us
Shruti Khare, Wanting More
Tiffany Christina Lewis, Kendi and Bishop
Jenn Maxwell, A Fake Romance for Hanukkah
Tinia Montford, Double Occupancy
James Montgomery, Art of Deception
Vi Riley, In Luck and Love
Lenette Rodriguez, The Ranger's Rescue
Micah K. Spurling, The Playboy's Revenge
Zachary Holmes Spence, T-Sports
Shortlisted entries were evaluated by a panel of Harlequin judges – Glenda Howard, Senior Executive Editor; Kathleen Scheibling, Executive Editor; Farah Mullick, Associate Publisher and Vice President; Shana Mongroo, Senior Manager, New Product and Business Development Initiatives; and Gemma Paynter, Manager, Harlequin Series and Digital Initiatives. We want to congratulate all the shortlisted candidates and thank them for their excellent submissions!
Sunday is the third mentorship recipient since the program began in 2020. Recipients receive a year-long mentorship with a Harlequin editor to complete their novel for publication, a one-book publishing contract with Harlequin, and a writing grant to further develop their writing careers. The combined value of the publishing contract and grant is $5,000 US.
Find Emma-Claire Sunday on Instagram: @author.ec.sunday
Read Harlequin's official Press Release for more.