Hi everyone,
Welcome to the Sold Blog 2015!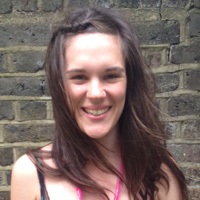 Let me introduce myself. My name is Flo Nicoll, I've worked at Harlequin for 6 years, and I'm an Editor in the London office – that's me in the photo. There are many (many) things I love about my job, but one of the highlights has to be discovering new talent. The buzz when you discover an author's voice that sets your editorial radar flashing is electric. And nothing compares to getting to make The Call. It's a total thrill, and it never gets less exciting!
So I am *super* excited to now be in charge of Harlequin's Sold blog, your one-stop Harlequin destination for everything you need to know about writing romance. This blog is aimed at all you fabulous authors out there who dream of writing for Harlequin, and our mission is simple – to help you make that dream come true! And what a year we've got lined up for you all.
Shamelessly jumping on the 'New Year, New You!' bandwagon, I bring you… drum roll… the New Year's Resolutions for the Harlequin Sold blog!
In 2015, the Harlequin Sold blog will become your go-to blogsite for…
In-depth writing advice from our crack team of Harlequin editors
Insights and tips from your favourite Harlequin authors
Writing competition news from all the Harlequin series teams
Opportunities to interact with authors and editors
Those inspirational Call Stories that we all know and love!
If that wasn't enough, you can also look forward to a more regular calendar of insightful, helpful and entertaining content.  We're starting the year as we mean to go on, with at least 3 posts a week – so lots of fun ahead!
We hope you're as excited by this new direction for SOLD as we are. We always love to hear from aspiring authors, so please do get involved with the conversation by using the #SoldBlog hashtag and telling us what your writing resolutions are for 2015!
I hope you enjoy reading the posts, and happy writing!
Love Flo x
P.S. Make sure you check back on Wednesday for the first post in our new monthly Advice From The Archives column, where we share fab editorial advice created for previous writing competitions such as So You Think You Can Write. This week's blog is called 'Don't Let The Plot Get In The Way Of The Story' – you won't want to miss it!
P.P.S. Follow me on @flonicoll for all the latest updates from the #SoldBlog!