Mel Sterling finaled in the 2012 So You Think You Can Write Contest. Now she's a debut Harlequin author. So how did she get to this point…?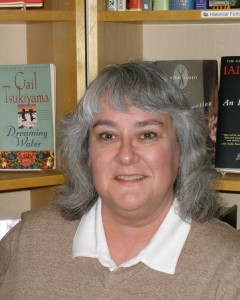 People sometimes ask me, "Where do you get your ideas?"
These days, I can answer truthfully, "At the convenience store." My Harlequin Romantic Suspense book (due out in May of 2014) was born in a convenience store parking lot a couple of years ago.
On my way home from work one evening, I got a call from my husband. He'd seen a video on the internet using Mentos and Diet Coke to make a fabulous, energetic soda geyser, and he wanted me to pick up the supplies so we could try it ourselves. So there I was, coming out of the store with a bag of 2-liter sodas and a whole litter of chewy mints, and there it was: a car parked right in front, door standing open, key in the ignition, engine running, and not a soul in sight.
I thought to myself, if I were a different sort of person, I would get in that car and simply drive away. There's nothing to connect me to this car, and it would only take a few minutes to be out of sight and untraceable for good. How would they ever catch me? Where would I go? What's stopping me?
My conscience stopped me, of course, and the fact that I love my old Subaru to death. But naturally this led to the what-if game, which led to the why game, which led to a raging story idea I started writing the very next day. In my story, Abby, the heroine, gets into a pickup truck at a convenience store and drives away to save her own life from an abusive relationship. What she doesn't know is that the truck's owner, Cade Latimer, is in the back. Cade, a sheriff's deputy, is on vacation with his partner, a ferocious K-9 dog. Not only does Abby steal his truck, but along the way she manages to steal his heart. Cade must decide which applies in this unique situation: the law of the land, or his personal code of ethics.
Fast forward to this time last year. A finished draft of the story festered on my hard drive. I didn't know where to send it—who was publishing stories about domestic abuse and vaguely criminal women and the men who loved them? Fate made sure I ran across Harlequin's "So You Think You Can Write" contest on the internet.
My story seemed to fit Harlequin's Romantic Suspense line. I emailed my writing partner and asked her if I should send the story (titled Grand Theft, Auto at that time, but it will be published as Latimer's Law) to the contest. Her email response was in the largest capital letters I have ever seen—WHAT ARE YOU WAITING FOR?
So I entered the contest with the first 5000 words. Nobody was more surprised than I when my story emerged from the hundreds of entries into the 28 semi-finalists. I sent the full manuscript off to Harlequin and crossed my fingers. My heart raced for weeks.
The story took third place in SYTYCW 2012. I was thrilled and terrified. I was even more terrified when Patience Bloom, the Romantic Suspense senior editor, emailed me with suggestions to improve the draft, and asked to see it again when I had finished revising it.
A few months later, Harlequin made an offer for the book. And now it's scheduled for publication!
I couldn't be more thrilled. So you, out there, with a romance novel sitting in a trunk or a drawer or a file folder—what are you waiting for?
So congratulations, Mel! We're delighted to add you to our list of Harlequin's new authors for the year. Let Mel know of your excitement on her website or via @Mel_Sterling on Twitter. Be sure to keep your eye out for Latimer's Law next spring!