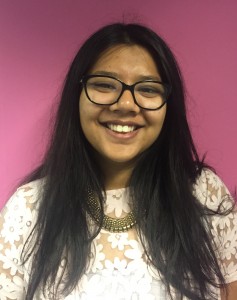 Hiya! My name is Farah Chowdhury and I'm the Editorial Assistant for Harlequin Romance and Harlequin Medical Romance. I've been with Harlequin for almost a year now, but have been surrounded by books my whole life. Last summer I graduated from the University of Kent and with my Comparative Literature degree in one and hand and a book in the other, I arrived at Romance HQ and I haven't looked back since. 🙂 For those of you who regularly check in to SOLD, you might already know that I'm also part of the SOLD Editors team, which is so much fun! I am always so amazed by the talent and encouragement the Sold Blog community of writers offer and I have to admit, I absolutely love reading the writing challenges and team love stories! But there are a few other confessions I have (and some you might not be expecting)…
Twilight is my guilty pleasure.
I don't know what it is about Twilight, but I absolutely love it. Okay, I'm lying, I know exactly what it is! It lives up to (almost) every fantasy I ever had about American High schools growing up. From the cliques to the lockers to the end of year dances, there's a twilight fan girl in me that just can't get enough! I also wouldn't say no to two fabulous alpha heroes fighting over me! Edward and Jacob are ice and fire, complete opposites – but both brooding, protective and so very alpha. After spending the day reading about sensational heroes at work, it's always nice to see them in action on screen and escape into a complete other world.
I am a hopeless romantic.
Now I know what you're thinking. Farah, you work in the world of Romance publishing, of course you're a hopeless romantic! But I really, truly am. I'm a sucker for a wedding, will almost always need tissues when I'm watching a rom-com and I'm known amongst my friends for only listening to love songs. (But really, aren't all songs about love?) Over the weekend I was out for dinner with a friend and the most romantic (and utterly cute) thing happened. Our dinner was interrupted by a cute guy walking past, who stopped to tell my friend that she had the most beautiful smile he had ever seen! (My heart had already melted by this point!) He then left his name, number, and adorable message before asking whether it was fate! It was so very cute!  Though I sat there rather awkwardly, it was a truly romantic moment to watch and I couldn't help but think what a wonderful romance story that would make. So, though this may come as no surprise, I, Farah Chowdhury, am a hopeless romantic, rose-tinted glasses and all and where better to land than the home of Romance itself… Harlequin 🙂
My name means happiness.
This is more of a fun-fact about me, but my name which is actually an Arabic name, means happiness! Which is perhaps why I so enjoy reading about and working in the world of Happily-Ever-Afters and seeing our heroes and heroines finding love and looking towards a future that they both so deserve.
I'm addicted to fizz!
I confess, I am addicted to fizzy drinks (or as it's referred to in the States, pop.) It is a terrible habit but one I've become known for at home, at work and amongst my friends! In fact, for my birthday last month one of my presents was an assortment of fizzy drinks! So as our heroes and heroines toast to forever, I'm there, lemonade in hand, cheering on the happy couple.
I have the travel bug!
I promise, this is nothing to worry about, I just love to travel! After spending two months in Thailand, two years ago, I couldn't shake off the desire to see more of the world! Since then, I've been to Dubai and Hungary and next week I'll be travelling round France and Italy – I can't wait! But in between my holidays I more than satiate my jet-setting appetite by reading wonderful romances set in destinations all across the world. From Paris to LA, one of the best parts of my job is being able to travel the globe and experiencing the very best of the world without ever having to leave my desk!
Are you a closet Twilight fan or have you got the travel bug too? Comment below or tweet me @Seefaraway! I hope you enjoyed this little insight into my world! 🙂