Harlequin editors attend writers' conferences throughout the year to meet authors, hear story pitches, speak on panels, and participate in Editor Q&A sessions – in person and virtually. Here's a run-down of recent and upcoming events.
New York City RWA Chapter (US)
Jan. 20, 2021
Love Inspired editor Melissa Endlich will meet with chapter members to answer their questions.
---
Rocky Mountain Fiction Writers Virtual Pitch Session (US)
Jan. 30, 2021
Harlequin Intrigue editor Allison Lyons will participate in a panel discussion and story pitch session. More details at

www.rmfw.org

.
---
DVCon
Jan. 30-31, 2021
Kerri Buckley, Executive Editor of Carina Press will participate in an Editor Q&A session. A product of #dvpit, DVCon is a free, 2-day virtual conference for self-identifying marginalized book creators.
---
Cre8tiveCon by AAMBC (US)
Feb. 19-20, 2021
Join editors from Harlequin's romance and fiction publishing imprints to find out the wide variety of books Harlequin publishes, what they acquire and upcoming releases they're excited about.
---
Romance Slam Jam Writers Program, Winter-Spring 2021 (US)
The RSJ Writers Program supports writers to produce quality stories to publish or pitch to an acquiring editor. Harlequin is taking part by offering free webinars and opportunities to talk to editors.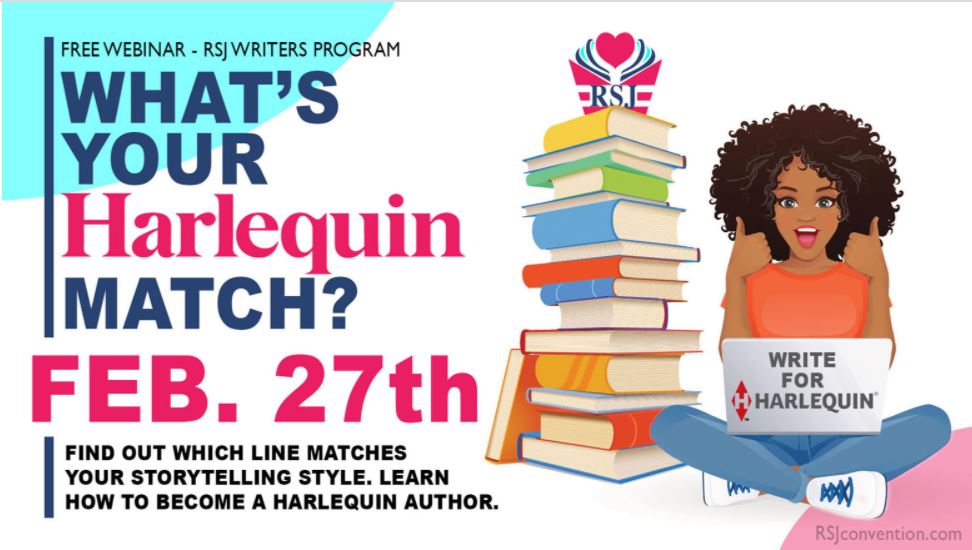 Open House – What's Your Harlequin Match, Saturday, Feb. 27, 2021 – Join Harlequin editors Glenda Howard and Denise Zaza to learn about Harlequin's romance lines and fiction imprints and have your questions answered about the business of writing and publishing romance novels. Register now
Open House – Conquering the First Chapter, Mar. 27, 2021 –Dreading the first chapter? Patience Bloom, senior editor for Harlequin Romantic Suspense, will share how to write a first chapter that readers won't be able to put down. Bring your questions and story idea.
Open House – Talk to an Editor, Apr. 24, 2021 – Meet one-on-one with a Harlequin editor for quick feedback on your story idea at an early stage in the writing process, and find out which romance line may be best suited to the romance story you want to write.
---
Mid-South Christian Writers Conference, March 20 – Love Inspired editor Shana Asaro will appear on an editors and agents panel. Click for more information.
---
Washington Romance Writers Virtual Retreat, April 10-11, 2021 (US)
Carly Silver, associate editor for Harlequin Romantic Suspense, will be accepting story pitches and participating in a Q&A panel.
---
Toronto Romance Writers Workshop Day (Canada)
May 8, 2021
Harlequin will offer three sessions during a full day of workshops:
Romance and More: Harlequin's Romance and Fiction Lines Explained – Kathleen Scheibling and Susan Swinwood lead a presentation and editor Q&A all about Harlequin's series and trade publishing programs.
Diverse Voices in Romance: From Writing to Getting Published – Carol Dunsmore talks to authors Hudson Lin (Carina Press), Marcella Bell (Presents and HQN) and Darby Baham (Special Edition) on how they got hooked on writing romance, their routes to becoming published authors and what they've learned about the publishing process.
How to Write a Book Blurb with an Irresistible Hook – A writing workshop led Dana Grimaldi and Katie Gowrie.
---
Festival of Literary Diversity (Canada)
May 1 – 15, 2021
Harlequin is excited to sponsor this annual Canadian festival and will offer a session for The FOLD's romance writing program on May 15, 2021.

Want to Be Published by Harlequin? Here's what you need to know – Join Harlequin editors to find out the wide variety of romance and fiction novels Harlequin publishes (yes, Harlequin is romance and more!) and get your questions answered about how to become a published author.
---
Black Writers Weekend (US)
June 9 – 11, 2021
Editors for Harlequin Series and Harlequin Trade Publishing are eager to meet writers at Pitchfest.
---
Connecticut Romance Writers (CTRWA) (US)
June 12, 2021
Carina Press Editor Stephanie Doig will speak to chapter members virtually about digital publishing. Carina Press is Harlequin's digital-first imprint.
---
RWANYC (US)
June 16, 2021
Carina Press Editor Stephanie Doig will give an update on Carina Adores, Carina's trope-driven, LGBTQ+ contemporary romance line that is celebrating its first anniversary this June.
---
Christian Book Lovers Retreat, Virtual Author Extravaganza (US)
June 24-27, 2021
Editors for Love Inspired and Harlequin Heartwarming will be on hand for story pitches from romance writers at this book event celebrating African-American Christian authors and books.
---
Romantic Novelists Association (UK)
July 16-18, 2021
Editors from Harlequin's UK acquisitions team are planning to participate in story pitch sessions at this annual event.
---
RSJ Booklovers Convention (US)
Aug. 4 – 8, 2021
Harlequin editors will be at RSJ Booklovers Convention, the conference for diversity in publishing, for workshops and story pitches from romance writers.
---
ACFW 2021 VIRTUAL CONFERENCE (US)
Sept. 10-11, 2021
Love Inspired/Love Inspired Suspense Associate Editor Dina Davis will be available for virtual story pitches.
---
Moonlight & Magnolias Conference (US)
Oct. 1 – 3, 2021
Love Inspired Editor Emily Rodmell will be available for virtual story pitches at this hybrid conference.
---
2021 Emerald City Writers' Conference (US)
Oct. 15 – 17, 2021
Harlequin Desire editor Charles Griemsman will lead a session and Q&A, and be available for story pitches from authors.