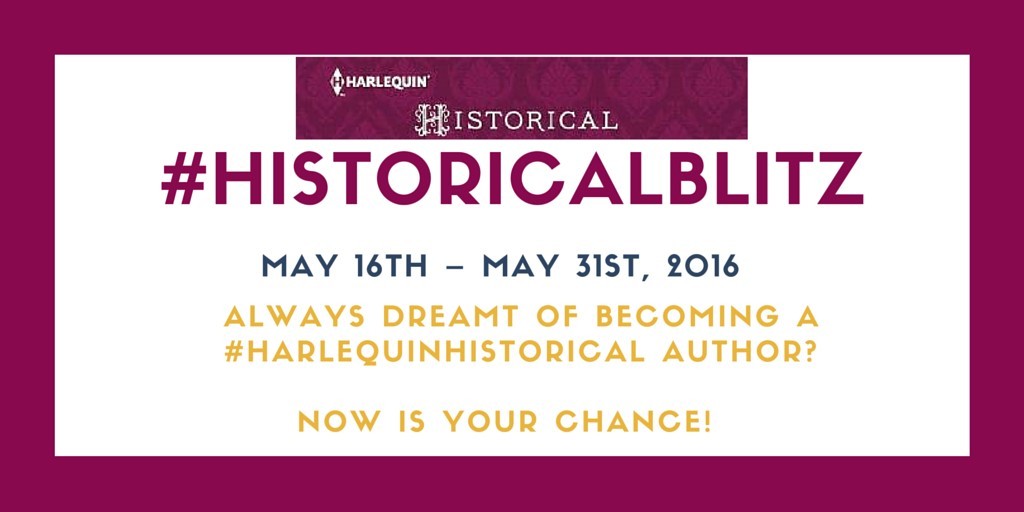 Do you love historical romances which sweep you away to another time and place? Does your heart race at the thought of a wicked rake, a rugged cowboy, a protective Highlander or a sexy warrior? Have you always imagined yourself as a willful debutante, an innocent governess, a sword-wielding Samurai or a demure lady of the Court? Do you dream of getting The Call, and becoming a brand new author for Harlequin Historical? Well, now's your chance to shine! The Harlequin Historical team's #HistoricalBlitz launches Monday, May 16, 2016!
Submission dates: You can submit your entry anytime from Monday, May 16th to Tuesday, May 31st, 2016 at our Harlequin Submittable page.  We will get a response out to all entrants by Friday, June 10, 2016.
What the Harlequin Historical team needs to see:
A cover letter that introduces you and your book and includes any previous publishing credits, contest wins, or affiliations.
A 2-3 page 

synopsis

. We want to know what happens in your book – tell us the key hooks, the crucial twists and turns, and how your hero and heroine find their happy ever after. Show us what drives your story forward, including the internal and external conflicts your hero and heroine face before they can find a way to be together.
The first chapter of your manuscript (up to 5000 words).
 What you get:
A quick response! Skip the

slush pile

and hear back from the Harlequin Historical team within 10 days after the submission period ends. Every submission will receive a response by Friday, June 10, 2016.
Editorial feedback for every submission targeted towards Harlequin Historical that we receive.
The chance to become Harlequin Historical's newest author! We will request to see more of the manuscripts which show the most potential for our line.

 Guidelines:
Our full Harlequin Historical

writing guidelines

can be found here: https://harlequin.submittable.com/submit/28678.
Please note that we publish stories with a total word count of 70-75,000 words.
We consider any time period from Ancient Civilizations, up to an including the Second World War.
Only one submission per author please.
Follow the #HistoricalBlitz hashtag on Twitter for writing tips and exclusive content. And follow @LindaFildew, @CheshireKat3 and @NicolaCaws for more!
Any questions? Leave a comment. We can't wait to hear from you!