By Katie Gowrie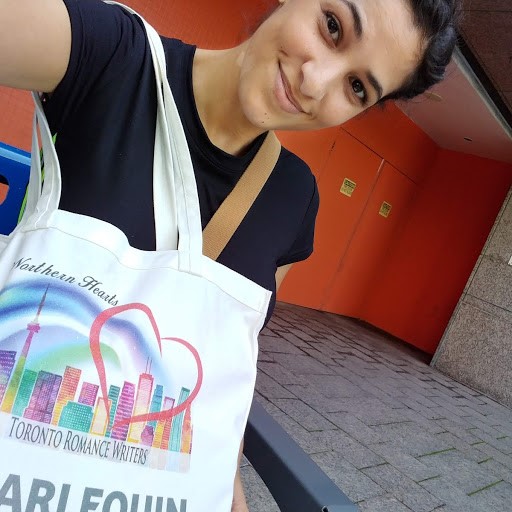 Last weekend the second annual Northern Hearts conference was held by the Toronto Romance Writers, and it was a pleasure to attend!
I arrived bright and early Saturday morning at the Novotel hotel, ready for a day of romance-publishing awesomeness. After grabbing a coffee, I made my way into the main reception room, where Sherry Thomas gave a masterclass on evoking emotions in writing—one that was intriguing and entertaining (Sherry is hilarious).
She spoke about using pain as a way to get readers to understand your characters. After all, pain is universal. Sherry gave her thoughts on why pain is a great character motivator and a big part of character transformation. It didn't hurt that we all got to take home a copy of the first book in her Lady Sherlock series, A Study in Scarlet Women.
After that, I was off to take pitches and got the chance to meet several writers who are interested in writing for Harlequin. Conference pitches are a great way to connect with an editor (and editors with you!). It's worth it if the opportunity is available to you, and I always love the chance to meet writers in the romance community and find out what they're working on. (I got that chance again later during the evening cocktail reception while filling up on delicious apps!)
At lunch, I grabbed a burrito bowl, which I scarfed down in under five minutes. What can I say? Conference days can work up quite an appetite! The afternoon was jam-packed with workshops, some focusing on craft, others on marketing and publishing, and ones that were genre-specific.
I so enjoyed Jenny Holiday's workshop on alpha heroes in the #MeToo era. She shared her views on why consent is so important in romance novels today, as well as her three-tier approach for writing consent in novels. Conveying consent might not be new to romance, but based on the enthusiastic nods from around the room, it's certainly something the industry continues to care about.
Later on, I slipped into a YA panel in which authors S.K. Ali, Sherry Thomas, Morgan Rhodes and Suzanne Sutherland (who is also an editor at HarperCollins), spoke about trends in the young adult market. They seemed to agree that romance is a big part of YA—not only is it an authentic marker of our younger years and of growing up, but it can make a story more satisfying and optimistic.
Overall, it was a great day full of wonderful presentations and exchanges of thought. Hat's off to the organizers for yet another successful conference, and to all those who attended.