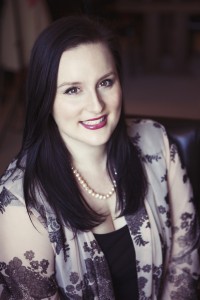 Today we're highlighting debut author Stefanie London, who has a Harlequin Kiss out in July! Don't miss your chance to grab Only the Brave Try Ballet in print–or wherever ebooks are sold on July 1st! 
Seven Things Writers Want To Know!
What got you interested in writing?
It sounds so cliché but I've wanted to be a writer for as long as I can remember. I learned to read quite early because my grandmother and mother were both avid readers and they always encouraged reading in our house. In fact, on the very few occasions I was grounded as a child my punishment was that my books got confiscated (well, my Dad always threatened but I don't think he ever had the heart to go through with it).
I used to write and illustrate my own books as a kid. I went on to take as many English subjects as I was allowed in high school and then I filled every possible elective in my Business degree with literature subjects. It's just something that's a part of me.
What has been the most useful thing you've done to get to this point?
Let other people read my work. This can be incredibly daunting for a new writer, but having people read your work and provide you with feedback is the best way to learn. I started slow, at first it was just my mum because I knew she would be kind no matter what. Then I joined a writers group and started to share my work there. Having positive feedback from other writers is what gave me the courage to submit my work and allowed me to work on the areas which were not as strong as they could be.
 What is the one thing you wish you'd learned sooner?
It's not something I learned so much as something I've done. I wish I'd started sooner. I worked on so many other creative projects over the years because I thought being published was not something I was capable of. But once I sat down and started I grew quickly and am continuing to grow as a writer. It's amazing what you can achieve when you find something that you're passionate about.
 Which book or blog or site or conference or contest would you recommend for new writers?
There are so many wonderful resources out there! I joined the Harlequin Forums early in my journey and learned a lot from the wonderful people who frequent the boards there. I also recommend joining your local romance writing group or association, because you can find very specific and useful information about writing for the romance genre from those groups.
 What drew you to Harlequin?
The Harlequin brand is something I've been familiar with for a long time. They used to sell Harlequin books at our local newsagency and I would stand there and read the back covers while my mum ran her errands. I think read my first Harlequin book in stealth when I was about twelve or thirteen, and the idea that I could be part of a brand with such a rich history was very exciting.
 What did you do when you got the call?
I cried. Seriously, I bawled my eyes out (I think the pure disbelief had made me a bit emotional) and then I called my mum. After I'd composed myself (somewhat) my husband took me out for celebratory champagne at a bar close to our apartment. I remember sitting there wondering to myself if I had just dreamed it all up.
We thank you, Stefanie, for getting up the courage–much like your hero, football hero Grant does when he tries ballet!
You can find out more about Stefanie at her blog, by following her on Twitter as @Stefanie_London, or on Facebook or Goodreads.