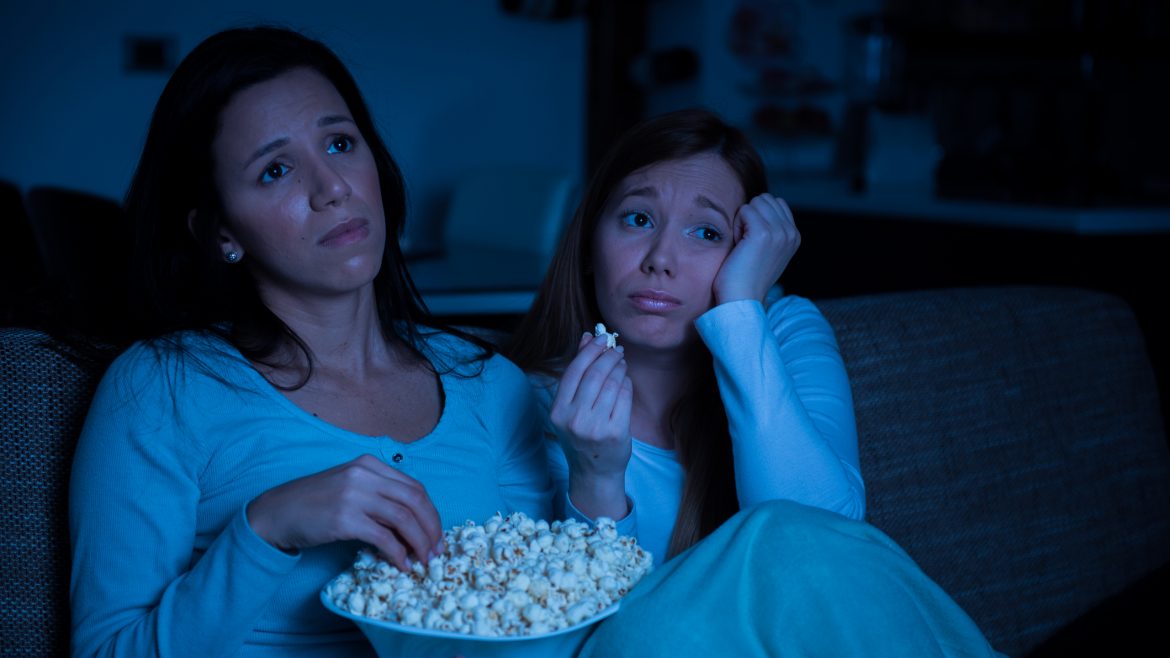 We at Write for Harlequin are always happy to talk about what we're watching—and with so many of us experiencing a quiet winter and spring at home, we've been watching a lot!
Our days have been filled with the joys of television and movies. There's nothing like sinking into a story through the screen, and we always love sharing our latest recommendations with you!
Errin Toma is watching Star Trek: Discovery
During the past year, I've mainly indulged in re-watches of my favorite shows but, a few weeks ago, I started Star Trek: Discovery. I grew up watching The Next Generation and Voyager episodes with my mom, so this felt like a bit of a TV homecoming. I've always loved what Star Trek represents: the thrill of exploration and the power of curiosity and hope. I also appreciate seeing capable, strong and emotionally open women in charge. But it's the Romance editor in me that stays for all the beautiful and complex romantic relationships filled with longing, affection, and understanding. It's also been a joy sharing my love of Star Trek with my partner, who had never seen an episode of any season before (shocking!).
Hannah Rossiter is watching Navillera
The minute the Write for Harlequin team began to prepare this post, I knew I had to write about Navillera! Navillera tells the story of Deok-chul, a 70-year-old retired mailman who decides to pursue his lifelong dream of learning ballet, and Chae-rok, a 23-year-old ballet dancer. As a lifelong fan of ballet, Navillera shot straight to the top of my Netflix to-watch list! Still, it's the friendship that Deok-chul and Chae-rok form—amidst Deok-chul's fight to learn ballet and his Alzheimer's diagnosis—that truly shines. Navillera is a warm and tender TV show that seamlessly blends the past and the present. But, what I love most of all? Navillera never stops showing the viewer that it's never too late chase your dreams and do what makes you happy.
Katie Gowrie is watching Small Island
I recently rewatched the National Theatre Live recording of the play Small Island through my local library. I love this show! Small Island is based on the novel of the same name by Andrea Levy and was adapted for the stage by Helen Edmundson. It tells the story of soldiers and civilians in Jamaica and the UK and how their lives are intertwined during and after WWII. The show is full of warmth, wit, and tons of heart—with plenty of tearful moments and others that'll make you laugh out loud. I love the use of media, how old songs and snippets of black and white movies make you feel transported to the 1940s on the cusp of a changing world. Small Island—which doesn't shy away from confronting the hardships Jamaicans faced during that time—feels big and poignant yet at times quiet, holding space for what they endured. If you want a "night at the theatre" from home, check for this rental on the National Theatre Live website or through your local library!
Deirdre McCluskey is watching Lupin
Earlier in the spring, after reading rave reviews and hearing a lot of buzz on social media and from friends, I caught up with Lupin on Netflix. Days later, I'd finished watching the full season. Now that Season 2 is here, I'm once again enjoying this high-stakes but light-as-air story of thief Assane Diop outwitting the authorities as he pursues the man who destroyed his family, the villainous Hubert Pellegrini. The plot is fast-paced and twisty, with lots of surprises, disguises, cliffhanger action and chase scenes. It's all held together with a cast of likeable characters and a performance full of charm and heart from Omar Sy as Assane. Very fun, escapist summer viewing!
What have you been watching and loving? Share with us in the comments below!