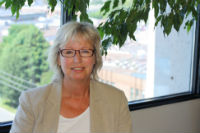 By Birgit Davis-Todd, Senior Executive Editor, Series
Once again Harlequin and Mills & Boon are searching globally to find new authors for all our category series. Always wanted to see your book published by the world's leader in romance fiction? Be sure to enter your manuscript in our Writing Contest. One lucky winner will be offered a fabulous two-book publishing contract with Harlequin—and the opportunity to work with a top-notch editor!
New for 2015: Welcome Wattpad!
Harlequin has teamed up with Wattpad, a huge online community for writers and readers, to offer aspiring authors a unique opportunity to learn, write and network.
Simply enter our Writing Contest by posting your romance manuscript on Wattpad  between now and September 21 4:59 pm EST, and get reader reaction as you polish your masterpiece. By posting your So You Think You Can Write contest entry on Wattpad, you'll attract new readers and get valuable feedback. You'll be able to easily make last-minute edits on your manuscript before the contest officially closes on September 21 at 4:59 pm EST.
Five Day Online Conference
Join us here all week long September 14 – 18 for our online conference AKA Harlequin's Boot Camp for Writers. Exercise those writing muscles with an intensive workout packed with blogs, live chats, Twitter events and more. You'll meet over 50 Harlequin Editors ready to coach you and whip your manuscript into final shape for the writing contest.
Due to popular demand, this year we are offering three Daily Writing Challenges: First Page, First Meeting of Main Characters and your 100-Word Pitch. Get ready to submit so your work can be reviewed the very same day by our talented editors.
Every day at our online conference you'll find tons of information on pacing, plot, characterization, sensuality, conflict and more. Not sure which series to target for your manuscript? Learn about the differences between all our lines plus Carina Press. And socialize with the editors and authors all week long through live events on Twitter.
Our Five Day Online Conference is free and fun! No need to register or leave the comfort of your home or office. Log on every day! We want to meet you.
How do You Spell Success?
Since launching the So You Think You Can Write contest and online conference in 2010, we've discovered and published more than thirty new writers for Harlequin.
Could you be our next new romance star?
Let's get this conference rolling. 
Post your questions—I want to hear from you!
Join the conversation on Twitter with the hashtag #SYTYCW15, and follow @HarlequinSYTYCW.