To kick off your work week, we are back with this week's Ultimate Girl Crush, Pride and Predjudice's Elizabeth Bennet, from Harlequin Romance writer Michelle Douglas. Happy Reading!
My ultimate crush is Elizabeth Bennet from Pride and Prejudice. For me, Lizzy is the perfect heroine. I love her sense of humour, and I love that she doesn't take herself too seriously. Who's seen the BBC adaptation of the book (the one with Colin Firth)? There's a scene the morning after the assembly ball where Mr Bingley and Mr Darcy have been introduced to the good people of Meryton. In the scene Lizzy relates to Jane that she wasn't "handsome enough" to tempt Mr Darcy to dance. I don't doubt that her vanity has been hurt, but she sees the humour in the situation and refuses to play the role of wounded, injured party. It's refreshing, and I think it's brilliant.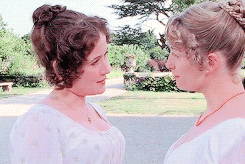 So, yes, I love Lizzy for her quick wit—it's a sign of a lively intelligence—but perhaps I love her most of all for her devotion to her sister, Jane. Where we're devoted, we're vulnerable, and Lizzy's love for Jane most certainly makes her vulnerable. As a reader, that vulnerability makes me fear for her.
The other thing I find attractive about Lizzy is that she's not cowed by fortune and rank. She gives respect where it's deserved, but she refuses to flatter and fawn. For wonderful examples of this read or watch these three scenes: Mr Darcy's first proposal, Mr Collins's proposal, and the visit she receives from Lady Catherine.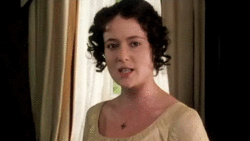 These things (combined with her family's lack of fortune…and the fact her family can be seriously embarrassing at times) ensure that Lizzy is a likable character, but a perfect character would set our teeth on edge, so it's only fair that I love Lizzy for her faults too. Mr Darcy certainly deserves to start off on the wrong foot with her, but he doesn't deserve to remain there. She lets her first impression of him colour her continuing judgments of him throughout much of the rest of the book until she's forced to confront her misconception…and recognise that it is a grave error of judgment perpetuated from her own prejudice.
I can forgive her this for two reasons. 1) I feel it's a
fault I'd ha

ve committed myself. I can totally understand it. 2) She does her best to make amends. She sets out to improve her behaviour so she won't make another such mistake again. She owns her mistakes, learns from them and becomes a better person in the process. (Mr Darcy does this too, which is what makes him such a wonderful hero for Lizzy.)
When a character begins a story with a line that EVERYONE remembers as one of the all-time best first lines in the history of the novel, you know she's going to be a character to remember.
Thanks Michelle! There is no doubt in our minds that Lizzie Bennet is the ULTIMATE romantic heroine!  Comment below and tell us–Who is your Ultimate Girl Crush?