Love Inspired Historical is proud to share that we made not one but five calls to offer contracts to brand new authors on Wednesday!
We are thrilled to welcome Angie Dicken, Anna Zogg, Victoria Austin, Mollie Campbell and Evelyn Hill to the team.  All these authors were finalists in LIH's Manuscript Match pitch event.  And we're not done reading yet!  So there could be more calls to come.
Congrats to these five authors!  We'd love for you to come join the first sale party here!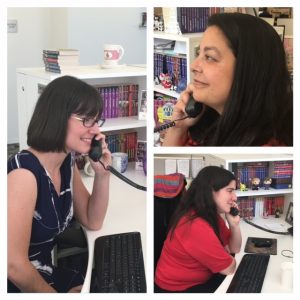 Follow the LIH editorial team and new authors on Twitter:
Editors: Emily Rodmell, Shana Asaro, Elizabeth Mazer
Authors: Angie Dicken, Victoria Austin, Mollie Campbell, Evelyn Hill
Want to read more about new Harlequin authors?  Check out our archive.
Do you have what we're looking for?  Check our contest page for the latest updates on contests and special submission calls.
The Love Inspired Historical Manuscript Match is going until August 31st.  You can check it out here!