Abby Green first sold to Harlequin in 2006. Her modern series debut was Chosen as the Frenchman's Bride and since then, she has written thirty books. What she loves most about writing for Harlequin is the luxury of working from home and creating passionate sexy stories featuring gorgeous heroines and heroes who are demanding and rewarding in equal measure. Abby's latest book, The Bride Fonseca Needs, is out now!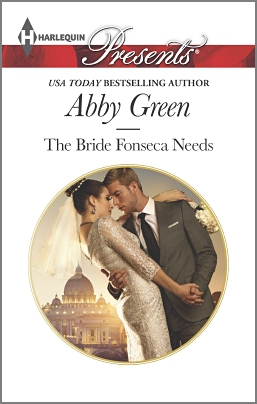 Don't forget to follow Abby Green on Twitter and Facebook.
1. What book first got you hooked on Harlequin?
The Kissing Game by Sally Wentworth and Ishbel's Party by Stacy Absalom.
2. How did you celebrate selling your first manuscript?
By jumping around and screeching followed by a million phone calls and then champagne.
3. Which of the many books you've written has stayed with you the most and why?
I think my first one, because you always remember your first, don't you? 😉
4. What's top of your TBR pile?
Life After Life by Kate Atkinson and the new Jack Reacher thriller.
5. What book do you wish you'd written and why?
Any Roald Dahl short story, because his stories are genius.
6. What's harder—first or last lines?
I like doing both but last lines are harder, I think.
7. How do you choose your characters' names?
I play around with names and go with what feels right.
8. How do you push through writer's block?
Go for a walk or see a movie, or read another book.
9. What's the best career advice you've ever had?
Read, read, read, you need to know the market you're targeting.
10. Your preferred writing snack?
Chocolate!
11. Who is your favourite fictional couple?
Jamie Fraser and Claire Randall from Outlander.
12. If you could rewrite your life, what would you change?
Nothing.
13. What would your readers be surprised to know about you?
That I hate overtly soppy romantic gestures or too much PDA.
14. What is your most overused word?
Realistically.
15. If I wasn't a romance author, I would have liked to be…
A Second Assistant Director on films which is what I did do, so apart from that, nothing!
16. When was the last time you said 'I love you'?
Last week.
17. What does love feel like?
The flu.
18. What's your guiltiest pleasure?
Buying magazines.
19. What's your most romantic song?
Don't really have one…changes all the time.
20. Every hero needs a…
Heroine, of course!
Chocolate, Jamie Fraser and champagne? It just doesn't get better than that! We hope you enjoyed these insights into the wonderful world of Abby Green!
Happy writing 🙂