Caroline Kimberly first sold to Harlequin in 2013. Her Ashford Brothers series debut was An Inconvenient Kiss and since then, she has written three books in the series. What she loves most about writing for Harlequin is the wonderful team working on her side! "Knowing my editor is working hard to help hone a story is peace of mind for me. She always has thought-provoking questions and comments, and the give-and-take process of editing with her has made me a better writer overall. I also love seeing what the art department develops for cover art. It's exciting to see characters come to life." Don't Miss Caroline's latest book – An Inconvenient Kiss – out now!
Be sure to check out Caroline's website!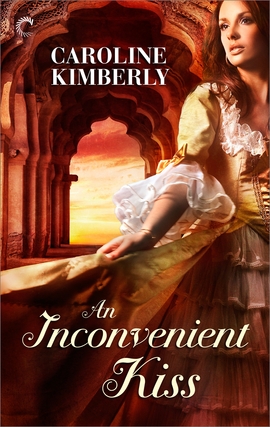 1. What book first got you hooked on Harlequin?
I've been reading Harlequin books so long, I can't even remember the first book I picked up! I think I was 16 or 17. They never disappoint.
2. How did you celebrate selling your first manuscript?
I called my husband and my two best friends, of course. After that, my husband and I went out to dinner and toasted with a nice bottle of champagne.
3. Which of the many books you've written has stayed with you the most and why?
An Inconvenient Wife because I had to work on it in pieces over years. It was my "escape" from the reality of raising spirited toddlers, so it remains one of my favorite projects.
4. What's top of your TBR pile?
Four Nights with the Duke (Eloisa James) when it comes out and Orphan Train by Christina Baker Kline
5. What book do you wish you'd written and why?
In non-romance, the Harry Potter series. It was creative and just an addictive series to read. In romance, I wish I would have written Duchess in Love by Eloisa James or My Dearest Enemy my Connie Brockway. Both books are witty, sexy and beautifully written. I read them over and over again.
6. What's harder – first or last lines?
Last lines! I have a hard time letting go of a story.
7. How do you choose your characters' names?
I pore through baby name books. I love looking through all the names and their meanings. It's a great feeling when I come across the perfect name for a character I'm developing.
8. How do you push through writer's block?
I read some of my favorite books and then I make myself sit down and type something—anything—whether it's a page or just a paragraph. It may not be good, but there's usually something I can use or rework.
9. What's the best career advice you've ever had?
Never give up! Writing can be a difficult industry, because there's plenty of rejection. The best thing you can do is to keep trying.
10. Your preferred writing snack?
Diet coke, chips and salsa. Yum!
11. Who is your favourite fictional couple?
Miss Elizabeth Bennet and Mr. Darcy from Pride and Prejudice. I love their banter and their strong personalities.
12. If you could rewrite your life, what would you change?
I would have given myself maturity and wisdom at a much younger age. Other than that, I'm happy with my life overall.
13. What would your readers be surprised to know about you?
That in addition to romance, I love sci-fi. I know…they don't exactly go together.
14. What is your most overused word?
It depends on the book, but I know I've overused 'smirk,' 'grimace,' and 'breathless' all shamelessly.
15. If I wasn't a romance author, I would have liked to be…
a personal trainer.
16. When was the last time you said 'I love you'?
This morning, to my husband when he was leaving for work.
17. What does love feel like?
To me, love is putting someone else's needs before your own wishes. It's selfless, yet it's fulfilling.
18. What's your guiltiest pleasure?
Romance novels!
19. What's your most romantic song?
Probably At Last by Etta James. The lyrics are romantic, but her rich, soulful voice takes it to a much deeper level.
20. Every hero needs a…
sense of humor!