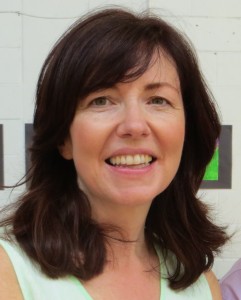 Last week, newest Harlequin Romance author Katrina Cudmore received a phone call that changed her life! Read on for all the lovely details…!
Dreams do come true. I wrote that opening line a few days ago for the new story I'm currently working on. And two days later my dream did come true when my wonderful editor Laura McCallen called to say that Harlequin would like to offer me a book deal for Harlequin Romance.
My day started off a bit chaotic. I slept in, only to hear our doorbell chiming. Standing outside were three of my sons' friends. I was taking them and two of my own boys to their summer camp later on and their mums had dropped them off on their way to work. Cue frantic dressing!
An hour later I had dropped them at the best summer camp ever…well, for us Mums anyway! They arrive home at about seven each night, exhausted but exhilarated by the day's activities.
Now it was time to walk my beloved dog. She's called Taylor after the incredible Irish boxer, Katie Taylor, but in truth she should be called Shadow as she follows me everywhere. And I mean everywhere! We spent a fun-filled half an hour in the park, which is at the end of my road. I usually try to be sitting at my desk writing by 9:30 each morning but on this day I thought what the heck—the sun was shining, it would be nice to take extra time out to chat to the other dog owners. For once I was going to relax and not rush home. I had sent my latest completed story to my editor two weeks previously and did not expect to get a response for some weeks to come. And if she liked it, I knew for certain I would have a lot of revision time ahead of me.
When I headed home I spent some time chatting with my daughter who had arrived home from a swimming camp in Spain the night before, and helping my other son prepare to go cut our neighbours hedge for her. I have four children in total.
And finally I powered up my laptop and went online. My heart skipped a beat when I saw an email from my editor. It always does this! Clicking on it she said she wanted to give me a call. Oh boy. This was not going to be good! Either the revisions were so extensive that she had to break it gently to me or worse still, they were calling it a day on my story. Oh well, I was working on another story I was loving. Maybe that would be the one.
I replied to Laura saying I would be available all day for her call. I almost jumped out of my seat when my phone rang five minutes later. At first we talked about our joint love of walks around London. And then she said she and the Senior Editor for Harlequin Romance had read the full story and there were some revisions needed. Phew. At least they weren't canning it. Revisions I can handle.
And then she said the words that left me a jabbering idiot. 'We would like to buy the story.'
My first words were, 'Are you sure?!'
She assured me that they were. We spoke a little more about what it all entailed and the revisions required. I tried to remain composed but my brain was in freefall! Were they really serious? How had this happened?
We ended the call and I sat at my desk for a good five minutes dumbfounded. Then I tried to call my husband, who has been an incredible support to me in my writing, but he was in meetings. I went and told my teenagers and I was so moved by how proud they were of me. My husband called me back and after a little screaming, I set him straight to work—I needed to change my website and social media sites to my real name. Up to then I had written under a pen name but after the call I decided I wanted to see my name on those books in my local bookshop! So cue a frantic hour changing them all. I quickly sent an email to my two critique partners, Sally and Carrie who have shared every inch of my journey to being a published author with wisdom and good humour. I think they were as stunned as me!
My editor tweeted the good news and that unleashed an avalanche of good wishes. The romance community really is an incredible one. I have been so touched by all of the congratulations and offers of support. I managed to find some time to call the rest of my family…and to pop a dusty bottle of champagne into the fridge; it has been stored for this occasion for many years!
That night I had a celebration barbeque with my family. Their pride and joy for me is something I will treasure forever.
My story with the working title, Swept into the Rich Man's World will be published in March 2016. I feel so honoured to be joining such a talented group of authors and supportive editors in Harlequin.
Welcome to the family, Katrina! Follow her on Twitter and leave any messages for her below!