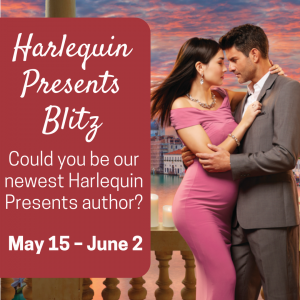 The Harlequin Presents team is always looking for new authors. We're committed to finding and nurturing brilliantly emotional, passionate and dramatic new voices – and now is YOUR chance to get your submission in front of the editors, because we're running a Harlequin Presents Blitz!
What you need to know:
The Harlequin Presents Blitz will be open for submissions from Wednesday 15th May – Sunday 2nd June 2019.
All submissions will get editorial feedback by Friday 14th June 2019.
We're looking for a cover letter that introduces you and your book and includes any publishing credits, first chapter and

synopsis

only – no need to have the full manuscript written!
If we love the

voice

, we'll invite you to submit further chapters and work with you on developing your story to its full potential. Please note that requests for additional chapters are not a guarantee of publication.
For details on how to submit and for full Terms and Conditions please go to harlequin.submittable.com, 'Harlequin Presents/ M&B Modern Blitz'. This page will be live from Wednesday 15th May – Sunday 2nd June 2019.
Only one entry per person.
Check out our full series guidelines here:
https://harlequin.submittable.com/submit/29561/harlequin-presents-mb-modern-50-000-words
Want to know what makes a perfect Harlequin Presents? Keep reading to find out what's hot on our editors' lists – and their top tips for getting started!
What Flo Nicoll, Senior Editor, is looking for:
I have a weakness for characters that make me laugh, as well as swoon, gasp, cry and stay up far too late because I simply can't stop reading! A good Presents should be an absolute rollercoaster ride of emotion, and the emotional highs can be just as impactful and powerful as the dramatic lows. So I'm particularly looking for author voices that leave me smiling…without sacrificing any of the emotional depth and sexual intensity the series is known for. 
Flo's top tip:
Dialogue is your secret weapon. It establishes your hero and heroine's unique personalities, it can instantly communicate drama or humour, it shows the reader your characters' sizzling chemistry in action, and it keeps the pacing lively. But use it wisely! Read it aloud to yourself to check it's natural and believable, and sometimes, remember less is more – what characters don't say can be just as important as what they do say.
What Hannah Rossiter, Editorial Assistant, is looking for:
People have been returning to Harlequin Presents, and finding their favourite love stories, for years! And, I'm no different. You can often find me, on the London Underground, lost in my favourite Lynne Graham or Sharon Kendrick – and, more often than not, missing my stop because I'm so wrapped up in their high-fantasy world! I love nothing more than the chance to be whisked away into a world of romance that I could only dream of! Think to-die-for alpha heroes, Cinderella heroines and classic storylines.
Hannah's writing tip:
You could write the same love story a thousand different ways. But, as an author, it's your job to work out what is the most exciting, unique path that will lead your hero and heroine to their Happily Ever After. Uniqueness comes from character development – it's only through getting right inside your characters' heads that you'll avoid the trap of cliché.
If you're stuck – don't worry, it happens to everyone! – take a step back and write down everything you know about your hero and heroine. Think about their lives outside the confines of the story and, importantly, what's happened to them before page one of their romance. It's this knowledge that could help you to answer questions like 'Why would he do this' or 'How will they overcome this?' and ensure that your hero and heroine are truly original.
What Laurie Johnson, Associate Editor, is looking for:
I personally love a deeply emotional Presents. One that takes the reader on an intense journey as the hero and heroine battle with their feelings and fight to resist their attraction, almost reaching the point of no return, before ultimately overcoming their internal issues to claim their hard-won HEA! Take your readers to the brink with dark, brooding heroes and passionate, enduring heroines. And don't forget the glamorous location where the sensual tension between your hero and heroine can erupt in a blaze of passion!  
Laurie's writing tips:
Read, read and read some more! Get to know the series. Our readers are looking for that something special that Presents delivers. Think fabulous escapism, stepping into a world of wealth and glamour beyond your wildest dreams, sweep your reader away with strong, alpha heroes, and let them experience it all first hand through the eyes of a relatable heroine.
Your hero can't just be a billionaire – Presents heroes are so much more! Give him depth, send him on a journey and pull your reader along with him.
If you think you've gone deep enough on your hero and heroine's emotional conflicts, go back again and go even deeper! Layer in all those wonderful elements of their characters that make them interesting so readers can't put their story down.
What Sareeta Domingo, Editor, is looking for:
Think about what spin you can put on the quintessential motifs of, say, Marriage of Convenience, or Secret Baby, or a revenge plot, to give it that modern-day feel. I'd love to see stories with a real contemporary edge, and modern-day occupations and issues, while still giving us that emotional, tense and escapist reading experience. Think about unusual, modern twists that could make your story stand out from the crowd!
Sareeta's writing tips:
For all the trials and tribulations your hero and heroine will go through, we're looking ultimately for a love story. So make sure that, no matter what they go through on the course to their happily ever after, we as readers can palpably sense the idea that we're witnessing two people falling for each other. Think about how you can convey that, rather than just 'telling' us it's happening.
And also, see what you can do to show us the potential chemistry between your characters right from the start of their interactions – even if they're at loggerheads with one another! We really want to see the spark that will make us compelled to see what happens between the two of them.
Finally, don't make things too easy for your hero and heroine. It's a classic tip, but ensure that you have layered in enough hurdles that they have to overcome in order to reach that happy ending together. Think of your hero and heroine like magnets – as a writer, you're letting them connect, then using forces to drive them apart again, even for all their attraction!
Keep an eye on writeforharlequin.com and follow the editorial team on Twitter: @flonicoll, @lauriecprescott, @SareetaD_HqnUK and @Hannah_ER24.
Any questions? Leave a comment. We can't wait to hear from you!