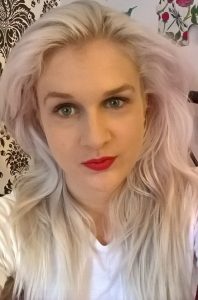 We're so excited that Harlequin editorial assistant and blog contributor Grace Thiele is officially joining the SYTYCW team! She pens insightful posts and brings lively discussion to the mix.  Welcome, Grace! Just a few questions…
How did you get started at Harlequin? Did you always know you wanted to be a romance novel editor?
The truthful answer is – no! It seems so obvious now, as I've always sought out love stories – as a teenager I was obsessed with Gone With the Wind and Wuthering Heights. But Harlequin – or Mills & Boon as it's known in the UK – never occurred to me. Then they moved into the UK HarperCollins office where I was doing work experience, and I was intrigued enough to go and buy one. The moment I started reading I knew that I'd been missing them my entire life… and I've barely let go of one since!
What is your favourite part of your working day?
I'm an utter tea fiend, so my favourite part of my day is sitting down at my desk with my mug/bucket, working out my priorities for the day. There's always something to look forward to, be it reading a manuscript a contracted author has just delivered, writing back cover copy or looking through slush for the next incredible story!
On TV, what show do you feel embodies "great storytelling" and why?
This is the answer du jour – but I love Game of Thrones. I think the most recent season was amazing – there's a really strong sense of the pace picking up and focussing on a few central characters, reeling us in to what I'm sure will be an incredible finale. And Emilia Clarke's hair in the show is incredible. I really feel that that contributes to the storytelling.
What have you learned most about working with writers?
It's in no way a surprise, but I think the thing I've learnt, and loved, the most about working with writers is how much passion goes into the writing process. Their love for their craft, for bringing joy to their readers and finding exciting new stories to tell, is the only thing that beats my love for their books.
Are there any books you've read recently that capture the sort of projects you're hoping to edit?
Aside from Harlequin, I read a lot of historical fiction; I inherited from my grandmother a real love for Philippa Gregory. I recently read one of her books about Queen Elizabeth I – when I pick up a Philippa Gregory book, I know I'm going to be satisfied, and as it's historical I know how it will end. But she has a brilliant way of keeping me on the edge of my seat, glued by her glorious story-telling and fascinating characterisation. I think those are the things I look for the most – a gripping narrative, and vividly drawn characters.
What's something no one (in the office/out in the writer world) knows about you?
The first part's no secret: I adore vampire fiction. But I'm not sure I've ever told anyone in publishing that every autumn, sometime around Halloween, I reread one of my favourites: usually Dracula, Interview with the Vampire, The Historian or Salem's Lot. The best thing is to wait until the weather is really awful, in the most atmospheric British way, when the wind and rain are beating at the windows, the leaves are still falling and it gets dark nice and early, then curl up under a blanket with a cup of tea. I recently moved into a creaky old block of Victorian flats in London, surrounded by trees and some very wobbly sash windows… I can't wait!!
Do you have any words of wisdom for aspiring authors?
The oldest adage in writing advice is to write what you know… but I think you should write what you love! What you don't know, you can research. But if you believe in your story and your characters, it'll fly off the page.