This week, we've invited some fabulous Harlequin Presents authors to 'fess up about how they mentally and creatively prepare to write a love scene! Enjoy 🙂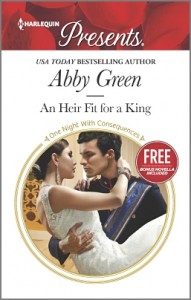 Abby Green, Harlequin Presents
Well. I'd like to say that I set the scene by lighting candles and dimming the lights, before pouring myself a glass of wine and diving in, so to speak. But invariably I'm writing a sex scene early in the morning with the postman knocking on the door (not in a euphemistic way at all), my hair scraped back in a headband and roadworks banging outside the house (again, not a euphemism). Mind you, I guess that drilling could, er, provide a little inspiration.
All joking aside, I think the best preparation is getting your hero and heroine to the point where if they don't do it *now*, your computer will combust from the sexual tension. That's all the preparation you need; two dynamic characters who are cross-eyed with lust for each other but fighting it as if their lives depended on it. Then when they come together…*pow*. Simple!
Abby's most recent title, An Heir Fit For A King, is available now.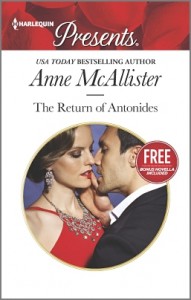 Anne McAllister, Harlequin Presents
I can't write a sexy love scene unless I know what is motivating both the hero and heroine to be intimately involved with each other. It may not be deep and abiding love the first time it happens—though by the last "sexy love scene" in the book, it certainly better be! But love scenes are all about emotional nakedness even more than physical nakedness. So I have to know what's in it for them emotionally to make it more than what one of my writer friends calls "docking procedures." To get the requisite emotional vulnerability, I need to know who the characters are at that point in the story, what's brought them together, and why—emotionally—they are opting for intimacy right then. A love scene works as a catalyst to move the story along, to allow the relationship to deepen or for the hero and/or heroine to say, "Whoa! I'm in too deep." It's that emotional awareness on the part of the characters that makes it sexy, I think. We get to see a part of them that they don't show everyone. That was certainly what happened to Holly and Lukas in The Return of Antonides. What occurred between them when they were teenagers had a real impact on who they became. And when they came together again as adults, convinced that they would handle things differently this time, it was their emotional vulnerability during intimacy that ultimately cracked their protective shells. That made writing the scenes sexy for me—and I hope this peek into their vulnerability does the same for the reader.
Anne's most recent title, The Return of Antonides, is available now.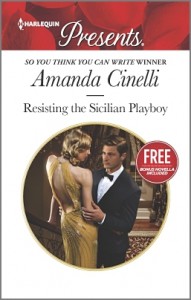 Amanda Cinelli, Harlequin Presents
I'm a pantser so I never know when I'm going to be writing a love scene. Usually my characters are in the middle of a dialogue and then suddenly I'm like—hey, what are you two doing? We weren't meant to be kissing for at least another two chapters!
That's the problem with alpha heroes, they don't play by the rules. You never know when they're going to go into seduction mode! So usually, when a love scene is foisted upon me, I just go with the flow and let my characters lead. (I have such a hard job…)
Amanda's debut book for Harlequin Presents – and SYTYCW-winning story! – Resisting the Sicilian Playboy, is available now.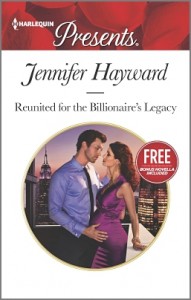 Jennifer Hayward, Harlequin Presents
With:
ENTHUSIASM – It doesn't turn you on, it isn't going to turn a reader on! Put yourself in your hero and heroine's shoes. Experience every second of it with them! Get carried away.
EMOTION – As Mae West said, "Sex is an emotion in motion." Make sure you inject emotion into every encounter, otherwise it's just sex.
INDIVIDUALITY – The situations your characters are in, who they are, their emotional baggage/backstory will decide how it needs to play out. Listen to them.
Jennifer's most recent title, Reunited for the Billionaire's Legacy, is available now.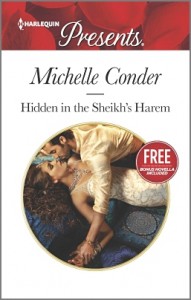 Michelle Conder, Harlequin Presents
Before I write a love scene I'd like to say that I light candles, have a scented bath, a glass of wine, put on mood music…but really the only preparation I do is to write the book and know my characters really well. Boring, huh? But true. I tend to write chronologically so my love scenes evolve organically from the story and come completely from the characters themselves. Which is why I can look my friends in the eye when they nudge me and suggest that they know what goes on between me and my husband when the lights are out. I only wish we had sex against the wall. Or on the kitchen bench. Or outside on a moonlit deck after skinny dipping in an infinity pool overlooking the Med. Kids sort of preclude that kind of thing from happening… Well, most of the time! But I digress. If you can call it preparation the one thing I do try to do when I approach a love scene is look upon it as a battle. And I don't mean a physical one, but an emotional one. Here are two people who are falling in love and may or may not know it, and who may or may not want it, but who are incredibly hot for each other. On top of this they usually have some inner demons to conquer and as physical intimacy is usually a precursor to emotional intimacy they tend to feel incredibly vulnerable after a love scene. When I'm reading a romance I love the sexual build up between characters and then the aftermath of the love scene when the characters must confront themselves, and each other. Or not! Happy writing. Michelle x
Michelle's most recent title, Hidden in the Sheikh's Harem, is available now.
Annie West, Harlequin Presents
Definitely not with mood lighting or music. I need to see what I'm writing and music distracts me too much! Nor with a glass of wine. I need my wits about me to write. My other must-have is the same for most of my writing—a bit of privacy. That means either a background of white noise (like in a coffee shop) or totally alone. Occasionally I've tried to write love scenes with other people wandering through the space where I work and it's disastrous. I keep looking up and losing the thread of the story.
Which leads me to plot. There's no point trying to write a sexy scene unless it fits the story, and for my money, a sexy love scene works best when it leads to even more complications and problems for my hero and heroine. So preparation is paramount—knowing this is just the right place in the book for a love scene that will make their lives thrilling and wonderful and then, hopefully, disastrous, is what it's all about.
Annie's most recent title, Seducing His Enemy's Daughter, is available now.
We hope you enjoyed this insight into the wonderful world of the Harlequin Presents authors – don't forget to leave your comments, or any top tips of your own, below!