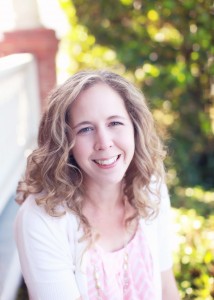 Today we're highlighting Sara K. Parker who has recently joined the Harlequin family! She's gotten some great insight from her sister, but it's her own hard work and conviction and belief that brought her to the Love Inspired Suspense line! Here's how she arrived…
Seven Things Writers Want to Know!
What got you interested in writing?
My grandmother gave me a diary for my tenth birthday. It was yellow with peach stripes, gold-trimmed pages, and a brass lock. I started writing that day, and I never really stopped. Within a year or two, I began submitting poetry and personal essays to magazines, and when I saw my first poem in print with a byline…I was hooked.
For about fifteen years, I did a lot of freelance work—writing magazine and newspaper articles, editing people's dissertations, and experimenting with fiction. I completed two manuscripts before this one, which both made it to an editor's desk, but were ultimately rejected.
After our kids came along, my writing fell to the wayside for about six years. I'm so glad I've come full circle and have found my way back to writing again. I didn't realize how much I had missed it.
 What has been the most useful thing you've done to get to this point?
Write! I realize that sounds simplistic, but it's just the truth. I have a bachelor's degree in journalism and a master's degree in nonfiction writing, but instruction can only take a person so far. Growth, I believe, simply comes with the practice of writing and rewriting and rewriting some more.
 What is the one thing you wish you'd learned sooner?
Pacing! I am still working on this, and even with Undercurrent, my first submission had a pacing problem. My characters liked sitting down to eat a lot, which tends to kill the suspense and bore the reader. I'm finding that I snack a lot when I write, so maybe that's part of the problem! The verdict is still out on whether I completely fixed the pacing issue, as I'll receive my line edits soon.
Which book or blog or site or conference or contest would you recommend for new writers?
I participated in the Happily Editor After contest, so I gleaned a lot of information from the editors on the boards during that time. I know someone else who is working on her manuscript for the Killer Voices contest, and as I've kept up with her on the boards, I've also learned quite a bit from messages posted by the editors. I've never been to a writing conference, but I have registered for the RWA conference this year, and I've heard great things about it.
What drew you to Harlequin?
I submitted my first manuscript to Harlequin eleven years ago. My sister, Shirlee McCoy, also submitted that year. She got a two-book contract, and I've watched her over the past decade establish an amazing writing career with Harlequin. When she mentioned the Happily Editor After contest last spring, I knew I had to give it a try. My favorite genre to read is romantic suspense, and I love that LIS allows writers to weave some faith elements into their manuscripts.
What did you do when you got the call?
My husband was home sick, and I had a lot of things on my agenda. I'd just made sandwiches for lunch, and I was really hungry and, to be honest, pretty grumpy for no particular reason. I glanced at the phone when it rang, not intending to pick it up, but when I saw Harlequin on the caller ID, I obviously changed my mind.
Even as I spoke with the editor Shana Asaro, I didn't want to get too excited. I was fairly certain that an editor wouldn't call to give me a verbal rejection, but I thought she could possibly call to suggest some revisions and encourage me to submit again. I didn't get loud and shaky until after the editor said she wanted to offer me a contract.
The rest of the day was a happy haze, and I celebrated by ordering take-out instead of cooking dinner. A couple days later, the hard work began, however, because Shana did request several revisions.
 What is the elevator pitch for UNDERCURRENT, Love Inspired Suspense, January 2015?
When Kathryn  Brooks takes a job as a concert pianist on a cruise ship, she's haunted by loss and hoping for a fresh start. Instead, the best friend she's rooming with disappears, and Kat becomes the target of a sinister plan to cover up a secret onboard the Jade Princess. Secret Service Agent and widower Samuel West has been saddled with watching over his grandmother on vacation, but after rescuing Kat from an explosion, he realizes he now has two females to look out for. With no land in sight, the threat closes in and two hearts struggling with loss have nowhere to run…
Thank you, Sara, for sharing your story with us! You can follow Sara on Twitter where she's @SaraKParker, and on her website and Facebook!